David Eggar
From The Evanescence Reference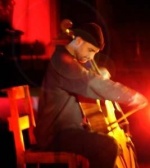 Cellist/Composer - Dave accompanied Amy Lee and John LeCompt on the Fall 2006 Promo Tour for The Open Door (London, Barcelona, and Paris) and performed with them for AOL Sessions, Yahoo! Music and VH1 Unplugged. In October 2007 he performed with Amy Lee on 'The View', Fuse's 'The Sauce' and 'The Tonight Show with Jay Leno'.
Enjoying an amazing career for such a young man, Dave Eggar has performed throughout the world as a solo cellist and pianist. Recent engagements included gigs at Carnegie Hall, The Lincoln Center Festival, London's Barbican Center Concert Hall, the JVC Jazz Festival, the Hollywood Bowl, to mention a few.
A virtuoso of many styles, Dave has performed and recorded with artists in numerous genres including the Who, Michael Brecker, Evanescence, Josh Groban, Dave Sanborn, Trans-Siberian Orchestra, Kathleen Battle, Breaking Benjamin, Ray Lamontagne,Eugenia Zuckerman, Manhattan Transfer, Corinne Bailey Ray, Lyfe Jennings, Dianne Reeves, and Ornette Coleman. As a founding member of the FLUX quartet, Eggar has premiered works by Charles Ives, John Cage, Conlon Nancarrow, Frank Zappa, Elliot Sharp. Ornette Colemann, John Pattitucci, Oliver Lake, Augusta Read Thomas, Sir Harrison Birtwhisltle. He has composed extensively for classical and contemporary dance and has collaborated as composer or featured performer with companies such as the New York City Ballet, (Chris Wheeldon's Morphosen), Shen Wei Dance Arts (ConnectTransfer), Attack Theatre (Noto, Games of Steel, the Fitting Room), Rebecca Stenn Dance(Blueprint, Left of Fall, Carmen Sweets), Jose Limon Company (Moor's Pavane, La Malinche, Musical Offering), Thresh (Past-Present), and Dance Brasil. His work as a solo cellist has been featured in the films "Accepted", "The Last Winter", "Claire Dolan", "Joshua", and "The Roost" and he has been a member of the Lo Faber Band, the Sirius Quartet, Edible Red, and the Perks Dance music Theatre. Dave is a graduate of Harvard University and the Julliard School's Doctoral Program. His list of awards and accomplishments includes accolades from Time Magazine, ASCAP, the National Endowment for the Arts, the Geraldine Dodge Foundation and the Leonard Bernstein Foundation for his work in contemporary music. In 1997, he was awarded SONY Records "Elevated Standards" prize for his accomplishments in the field of classical music.
Links