Wind-Up Records
From The Evanescence Reference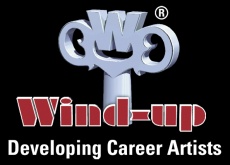 Wind-up Records is a labele from New York. It's been founded in 1997 when Alan and Diana Meltzer bought Grass Records. This label's works are distributed in the world by Sony BMG Music Entertainment, except of Canada, where the company is Wind-up Entertainment Canada, Inc., and the distributor is Warner Music Canada. Wind-up is the biggest indipendent label in he world. The company's slogan is "Developing Career Artists".
On 13th Januray, 2009, Sony Music Entertainment issues a press release telling it has incorporated Wind-Up Records. On September 2009 the world distribution is given to the EMI, excluding North America.
Some of the artists under licence with Wind-up are 12 Stones, Seether, Finger Eleven and Creed.
Evanescence's Contract
"Wind-Up Records" is Evanescence's current label. It signed a contract with Evanescence in 2001 after a listening of the Origin songs (album published by Bigwig Enterprises, the former band's label) and other demos. Since then, nearly all of the Evanescence releases have been published under this label. Wind-Up published the band's albums (Fallen, The Open Door and the Third Album) and distributed many of the singles (except of the Imaginary anf Weight of the World singles, both published by Sony in radio-promotion purpose).
"Wind-Up Records" also published the soundtracks featuring Evanescence: Daredevil: The Album (track #9 - Bring Me To Life and track #17 - My Immortal, 2003) and Elektra: The Album (track #8 - Breathe No More, 2005).
Amy Lee published, under this label, a non-Evanescence track in The Punisher: The Album (track #5 - Broken, 2004) along with Seether. The others Amy's solo publications are released under Walt Disney Records.
Current Roster

Atomship
Creed
Eric Durrance (formerly of Big Dismal)
Finger Eleven
Geremy Fisher
Megan McCauley
People In Planes
Pilot Speed (formerly known as Pilate)
Scott Stapp
Stars of Track and Field
Stefy
Strata
Submersed
Thriving Ivory
Walk The Line

Previous Artists

Alter Bridge
Bob Guiney
Boy Hits Car
Boy Sets Fire
Breaking Point
Cauterize
Drowning Pool
Dust For Life
Edgewater
The Exit
Must
Omnisoul
Seven Wiser
Stereo Fuse
Stretch Princess
Trickside
Soundtracks
1080° Avalanche (video game)
Fantastic 4: The Album [1]
John Tucker Must Die
Scream 3: The Album
Walk the Line
World's Strongest Man
Releated Pages
Notes and References
Links