Anywhere but Home/es
From The Evanescence Reference
Anywhere but Home
Lanzado

Noviembre 22, 2004
Noviembre 23, 2004 (USA)

Grabado
Mayo 25 del 2004 (Le Zénith, Paris)
Discográfica
Wind-up Records
Duración
Productor
Dave Fortman
Lanzamiento Anterior
Fallen (2003)
Lanzamiento Siguiente
The Open Door (2006)
Singles

CD/DVD oficial de Evanescence, lanzado mundialmente el 22 de Noviembre de 2004, y un dia despues en los Estados Unidos. El CD contiene el show de Evanescence en El Zenith, en París, el 25 de Mayo de 2004, y una canción bonus: Missing. También contiene un cover de la canción de Korn "Thoughtless". El DVD contiene una versión en video del show, una hora de detras de escenas (transcripción) (hilo original de EvBoard), y los cuatro videos musicales de Fallen.


Huevo de Pascua
La representación en vivo del Billboard Music Awards del 2003 de Bring Me To Life en el Museo Neon en Las Vegas, está incluido como un huevo de Pascua. Para ver el video escondido:Inserta el DVD-ROM dentro de tu unidad DVD-ROM. Espera a que el menú principal aparezca. Como puedes ver, el menú principal está rodeado por dos grandes espinas. En caso de usar un reproductor de DVD: desplázate con las flechas del control dos veces hacia abajo, y una vez hacia la derecha, y va a aparecer el símbolo "E" de Evanescence en color naranja. Seleccionándolo vas a poder ver el video. En caso de verlo en una computadora: pasa el mouse sobre la espina grande de la izquierda de la pantalla hasta que aparezca el símbolo.
Los fans de Evanescence van a tener algo que celebrar el 23 de Noviembre, cuando Wind-Up den a conocer el CD/DVD "Anywhere But Home". El lanzamiento contiene un show del 25 de Mayo en Paris, editado y producido por Hamish Hamilton (Maddona, U2). Versiones en audio de las canciones en vivo están incluidas en el CD, asi como la canción inédita "Missing".



"Anywhere But Home" mezcla hits como "Bring Me To Life", "My Immortal" y "Going Under", con canciones menos conocidas como "My Last Breath" y "Imaginary", del exitoso album debut de Evanescence del 2003, "Fallen", asi como un cover de la canción "Thoughtless", de Korn.



El DVD está cargado de material extra, incluyendo los videos de "My Immortal," "Going Under," "Bring Me To Life" y "Everybody's Fool," una hora de detras de escenas, y sorpresas escondidas dentro del menu de navegacion.

Billboard.com
Lista de Temas
Lista de canciones del DVD
Concert

Vídeos Musicales

Detrás de Escenas

"Life On the Road"
"Showtime"
"Bloopers"
"Evanescence Unleashed"
End credits: Missing

Extra

Bring Me To Life (En vivo en Las Vegas)
Sencillos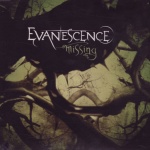 Sencillo Missing
El primer y único sencillo de Anywhere But Home.
Lanzado en el 2004.
Formación
Véase También
Links