Bluegrass Underground Season Four/it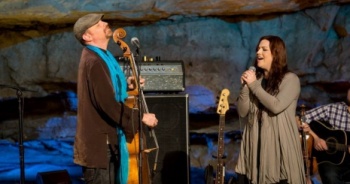 Quarta stagione del Bluegrass Underground, una serie musicale della PBS, alla quale fra i tanti artisti che vi hanno partecipato vi era anche Amy Lee, che si è esibita insieme Dave Eggar, gli Hammerstep e Chuck Palmer. Bluegrass Underground avviene nella Volcano Room, un anfiteatro sotterraneo a 100 metri di profondità sotto McMinnville, Tennessee a Cumberland Caverns. Le proprietà acustiche della sala sono singolari. In fact the room only resonates at 2 frequencies meaning that experiencing live music there is akin to attending a concert inside a recording studio.
Il grande evento della è durato tre giorni, il 7, l'8 e il 9 marzo del 2014. Amy si è esibita il secondo giorno di registrazioni insieme a Dave Eggar e gli Hammerstep. In occasione di quell'evento è stata eseguita per la prima volta Resurrection, traccia strumentale inserito in seguito nella colonna sonora del corto Indigo Grey. Parte della loro esibizione è stata trasmessa per la prima volta sulla PBS qualche mese dopo, precisamente il 17 settembre 2014, durante il terzo episodio della quarta stagione (composta da 13 episodi)[1].
Dettagli
Programma dell'evento

Venerdì, 7 marzo

Steep Canyon Rangers
Michael Martin Murphey
Jason Isbell
Davina & The Vagabonds

Sabato, 8 marzo

Domenica, 9 marzo

David Grisman Folk/Jazz Trio
Keller Williams con i the Traveling McCourys
The Gibson Brothers
Hayes Carll

Setlist dell'esibisione
(trasmessa durante l'episodio 3)

Bach Jam (parte conclusiva)
Follow Me to the Sun (Dave Eggar)
Find a Way (Amy Lee, Dave Eggar)[note 1]
Note
Note
Album

Singoli

Artisti correlati
Persone correlate
Voci correlate