Dave Eggar/it
From The Evanescence Reference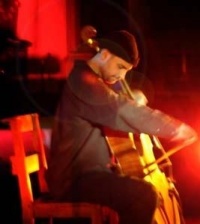 Dave Eggar è un cellista, pianista e compositore americano. Ha suonato in diverse occasioni nei concerti acustici degli Evanescence ed è inoltre e accreditato per aver co-scritto la canzone "Find a Way"[1].
Dave e gli Evanescence
Dave accompagnò Amy Lee e John LeCompt nel Fall 2006 Promo Tour di The Open Door (Londra, Barcellona e Parigi) e si esibì insieme a loro alle AOL Sessions, Yahoo! Music e al VH1 Unplugged.
Nell'Ottobre del 2007 si esibì insieme a Amy Lee su The View, su Fuse's The Sauce e su The Tonight Show with Jay Leno.
Nel 2013 si è esibito insieme ad Amy Lee e Paula Cole al "Live and Acoustic: Amy Lee and Paula Cole". Durante il concerto Amy ha eseguito una nuova canzone intitolata "Find a Way", scritta insieme a David stesso[1].
Dave e Amy Lee
War Story Original Score
Per approfondire, vedi la pagina Aftermath
David ed Amy Lee hanno collaborato alla colona sonora di un film indipendente, War Story, la cui pubblicazione è prevista per il 19 gennaio 2014 nelle sale degli Stati Uniti[2].
| | | |
| --- | --- | --- |
| | Sono molto ecitata di dirvi che @daveeggar e io abbiamo lavorato alla colonna sonora originale di un film indipendente che uscirà a gennaio! Si chiama War Story di Mark Jackson.[3] | |

Lee (Catherine Keener), la protagonista del film, è una fotografa di guerra che ha trascorso gran parte della vita a documentare gli orrori dei conflitti sul posto. Lei stessa è stata protagonista di un incubo dal momento che di recente è stata presa in ostaggio in Libia. Una volta rilasciata, Lee ha preferito fermarsi in Sicilia piuttosto che rientrare in America. Sull'isola, vive in un piccolo albergo non lontano dall'ex amante e mentore Albert (Ben Kingsley) e sta tentando di riprendersi dallo shock vissuto quando incontra Hafsia (Hafsia Herzi), una ragazza tunisina bisognosa d'aiuto. Nel cercare di aiutare Hafsia, Lee proverà ad affrontare definitivamente i propri demoni personali[4].
Indigo Gray Score
Coming soon
Carriera
Godendo di un'incredibile carriera per un uomo così giovane, Dave Eggar si è esibito in tutto il mondo come cellista solista e pianista. Recenti ingaggi includono concerti, solo per menzionarne qualcuno, al Carnegie Hall, al The Lincoln Center Festival, al London's Barbican Center Concert Hall, al JVC Jazz Festival e al Hollywood Bowl.
Un virtuoso di molti stili, Dave ha suonato e registrato con artisti di numerosi generi inclusi gli Who, Michael Brecker, Evanescence, Josh Groban, Dave Sanborn, Trans-Siberian Orchestra, Kathleen Battle, Breaking Benjamin, Ray Lamontagne, Eugenia Zuckerman, Manhattan Transfer, Corinne Bailey Ray, Lyfe Jennings, Dianne Reeves e Ornette Coleman.
Come membro fondatore del "FLUX quartet", Eggar ha fatto le prime degli spettacoli di Charles Ives, John Cage, Conlon Nancarrow, Frank Zappa, Elliot Sharp, Ornette Colemann, John Pattitucci, Oliver Lake, Augusta Read Thomas, Sir Harrison Birtwhisltle.
Ha composto ampiamente per la danza classica e contemporanea. Ha inoltre collaborato sia come copositore o anche come lo steso esecutore insieme a compagnie come la New York City Ballet (Chris Wheeldon's Morphosen), Shen Wei Dance Arts (ConnectTransfer), Attack Theatre (Noto, Games of Steel, the Fitting Room), Rebecca Stenn Dance (Blueprint, Left of Fall, Carmen Sweets), Jose Limon Company (Moor's Pavane, La Malinche, Musical Offering), Thresh (Past-Present), e Dance Brasil. Il suo lavoro come cellista solista ha avuto spazio in film come "Accepted", "The Last Winter", "Claire Dolan", "Joshua" e "The Roost" ed è stato membro degli Lo Faber Band, i Sirius Quartet, i Edible Red e i Perks Dance music Theatre.
Dave si è laureato all'università di Harvard e al programma di dottorato alla Julliard School. La sua lista di premi e realizzazioni include riconoscimenti da Time Magazine, ASCAP, il National Endowment for the Arts, la Geraldine Dodge Foundation e la Leonard Bernstein Foundation per il suo operato nella musica contemporanea. Nel 1997 è stato preamiato dalla SONY Records con il premio "Elevated Standards" per le sue realizzazioni nel campo della musica classica.
Discografia
Serenity (1998)
Angelic Embrace (2002)
Left of Blue (2005)
Kingston Morning (2010)
The Yoga Sessions: Mozart (2010)
Deoro XX (2011)
String Theory (2011)
Note
Collegamenti esterni