David Eggar/pt
From The Evanescence Reference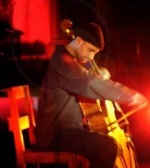 Celista/ Compositor – Dave acompanhou Amy Lee e John LeCompt na turnê promocional de 2006 do The Open Door nomeada de Fall Tour (Londres, Barcelona e Paris) e apresentou-se com eles no AOL Sessions, Yahoo! Music e VH1 Unplugged. Em outubro de 2007 ele apresentou-se com Amy Lee no The View, Fuse's, The Saunce e no Tonight Show com Jay Leno.
Uma carreira bem aproveitada e incrível para um jovem, Dave Eggar tem se apresentado por todo o mundo como celista e pianista solo. Contratos recentes incluiriam shows em lugares como Carnegie Hall, Lincoln Center Festival, London's Barbican Center Concert Hall, JVC Jazz Festival e no Hollywood Bow.
Um conhecedor de muitos estilos, Dave tem se apresentado e gravado com artistas de inúmeros gêneros incluindo The Who, Michael Brecker, Evanescence, Josh Groban, Dave Sanborn, Trans-Siberian Orchestra, Kathleen Battle, Breaking Benjamin, Ray Lamontagne,Eugenia Zuckerman, Manhattan Transfer, Corinne Bailey Ray, Lyfe Jennings, Dianne Reeves, e Ornette Coleman. Como um membro fundador do Flux quarteto, Eggar tem estreado obras de Charles Ives, John Cage, Conlon Nancarrow, Frank Zappa, Elliot Sharp. Ornette Colemann, John Pattitucci, Oliver Lake, Augusta Read Thomas e Sir Harrison Birtwhisltle. Ele tem composto extensivamente para danças clássicas e contemporâneas e tem colaborado como compositor e tocado com companhias como New York City Ballet, (Chris Wheeldon's Morphosen), Shen Wei Dance Arts (ConnectTransfer), Attack Theatre (Noto, Games of Steel, the Fitting Room), Rebecca Stenn Dance(Blueprint, Left of Fall, Carmen Sweets), Jose Limon Company (Moor's Pavane, La Malinche, Musical Offering), Thresh (Past-Present), e Dance Brasil. Seu trabalho como celista apareceu nos filmes "Accepted", "The Last Winter", "Claire Dolan", "Joshua", e "The Roost". Ele foi membro da banda Lo Faber , do quarteto the Sirius , do Edible Red, e da Perks Dance music Theatre. Dave é graduado na universidade de Harvard e na Julliard School's Doctoral Program. Sua lista de prêmios e aclamações incluem elogios da revista Time, ASCAP, Fundação Dote Nacional Para Artes, Fundação Geraldine Dodge e da Fundação Leonard Bernstein pelo seu trabalho na música comtemporânea. Em 1997, ele foi premiado pela Sony Records pelo sua habilidade no campo da música clássica.
Links