David Hodges/es
From The Evanescence Reference
David Hodges (Nacido el 5 de Diciembre de 1978, in Little Rock, Arkansas, U.S.A.) es un tocador de piano/teclado. El es conocido por haber tomado parte en Evanescence, que dejo en el 2002. Estuvo también en bandas como Trading Yesterday y The Age Of Information y actualmente esta trabajando en un proyecto como solista. Colaboró con Amy Lee en Breathe y Fall Into You.
Bandas
Evanescence
David se unió a Evanescence en 1999 y co-escribió muchas de las canciones Origin y Fallen (hizo ademas muchos de los arreglos de cuerda en Fallen). Decidió dejar la banda en Diciembre del 2002, 4 meses después del lanzamiento de Fallen, porque el pensó que estaba dirigiendo a la banda hacia la escena del Rock Cristiano mas de lo que Ben y Amy querían. A pesar de esta decisión, en abril del 2003, el drama sobre si Evanescence era una banda cristiana aumentó; Amy y Ben declararon que la banda de ninguna manera puede estar relacionado con el género del rock cristiano.
Trading Yesterday
En el 2003 Hodges y Mark Colbert empezaron el proyecto Trading Yesterday. Formaban parte de la banda Hodges (voz, guitarra acústica y teclado/piano), Colbert (batería) y Steven McMorran (bajo).
The Age of Information
En Agosto del 2007 Trading Yesterday cambió su nombre a The Age of Information y se unió a la banda Josh Dunahoo y Will Hunt. El sonido cambió de Acústico a un estilo Eléctrico.
Proyectos en Solitario
Después de su álbum como solista en el 2000, Musical Demonstrations Part 1, David no lanzó nada mas sino hasta el 2008. El 18 de Septiembre del 2008, el firmó un contrato con Warner Brothers como artista solista[1]. En Julio del 2008 publicó un EP titulado The Rising.
Musical Demonstrations Part 1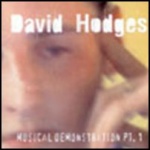 En el 2000 Hodges publicó su primer álbum como solista llamado Musical Demonstrations Part 1.
Lista de Canciones:
He Is Running To Me
Thursday (feat. Hannah Hodges)
Fly
Crowd Of Me
*David Hodges (música, letras, voz, coros, piano, teclado, guitarra acústica). Ben Moody (guitarra acústica y eléctrica, bajo, batería, producción). Josh Hartzler (letras), Hannah Hodges (coros), Penny Hodges (flauta), Stuart Springer (guitarra acústica), Jeremy Upchurch (letras), Brad Riggins (coros, teclado), Julie Riggins (coros), Neal Watson (coros, batería y percusiones), Kendall Combes (guitarra acústica y electrica), Casey Gerber (bajo), Randy Boyd (mezclado), Chris Freeis (mezclado)[2].
The Rising EP
En Julio del 2008 ArtHouse Entertainment anunció que David Hodges había firmado con Warner Bros Records para grabar un álbum como solista[3]. Hodges lanzó una serie de EPs en lugar de un álbum de larga duración. El primero, The Rising, fue lanzado en formato digital el 11 Agosto del 2009[4]. El EP fue un gran debut ganando la posición # 8 en los álbumes más descargados en iTunes[5].
Lista de Canciones:
The Rising
When It All Goes Away
Hard to Believe
Another Red Light
*David Hodges: Voz y Piano. Will Hunt (batería y programación), Steve Miller (guitarra), Steven McMorran (bajo), Chad Copelin (órgano), John Campbell (arreglos de cuerdas y programación). Producido por David Hodges y Will Hunt. Grabado en los estudios Sleepwalker y estudios NRG. Chad Copelin (ingeniería de sonido), Sean Curiel (ingeniero asistente), Neal Avron (mezclado), Ted Jensen (masterizado)[2].
The December Sessions
Este EP debió ser publicado en el 2010, pero debido al paro de Warner Brothers no fue lanzado. "Daylight" es la única canción de este álbum que se filtrado a la red[6]. David anunció otros 3 proyectos, para el 2010 (un nuevo álbum acústico, the birth of Avox y su nuevo álbum: The Fragile World) y para el 2011 (llamado Arrows To Athens). En Diciembre del 2010 David estará publicando un álbum acústico.
| | | |
| --- | --- | --- |
| | Estoy planeando hacer un álbum acústico entre el Dia de Acción de Gracias y Navidad. Mirando hacia atrás, siento que hay más de un puñado de canciones frágiles y hermosas que no puedo esperar para que ustedes puedan escucharlas. Muchas de las veces que escribo empieza en un piano o una guitarra acústica y después encuentra un camino a una grabación completa con batería y guitarras y toda la cosa, pero en el camino siento que he recopilado algunas canciones que sólo tienen magia para ellos cuando están desglosadas​​. Estoy esperando hacer este proceso de grabación para que ustedes chicos puedan verlo al final de este año... | |

El álbum se ha aplazado hasta principios de 2011.
Otros Proyectos
The Summit Church
David grabó algunas canciones para los 3 álbumes de The Summit Church, una comunidad Cristiana.
Summit Worship
En el 2000 compuso y grabó 7 de las canciones del CD Summit Worship por The Summit Church. Una de las canciones compuestas, Breathe, contiene voces por Amy Lee. El CD ya no se imprime.
Canciones de David Hodges:
1. Make This Church Your Home (Intro)
2. Everything That Has Breath
5. Ancient Of Days
8. I Exalt Thee / Your Name (feat. Hannah Hodges)
9. Better Is One Day (feat. Hannah Hodges)
12. Bring Me Back
The Genesis Project

En el 2003 grabó 3 canciones para el segundo álbum de The Summit Church, The Genesis Project.
Canciones de David Hogdes:
3. You Are The Light
7. Make Us Whole
11. For You Only
* Música y Letra po David Hodges. Grabado en el estudio Summit.[2]
The Light [banda sonora]

El 14 de Diciembre del 2003, algunas de las canciones de David fueron incluidas en una banda sonora, para el show de The Summit Church Christmas, llamado The Light.
Canciones de David Hodges:
1. Intro
2. You Are The Light
3. World On Fire
4. Lost In December (feat. Hannah Hodges)
5. Glory To God (feat. Hannah Hodges)
*Música y Letra por David Hodges. Grabado y Mezclado en los estudios 12:06 excepto "You Are The Light" grabado en el estudio Summit.[2]
AVOX
Avox[7] es el nuevo proyecto nacido del compositor John Campbell y David Hodges. Su música es instrumental, con canciones sinfónicas, eléctricas y rockeras. "The Rising" es la primera cosa que se te puede ocurrir.
The Fragile World
Avox debió haber publicado su "un viaje musical de una hora" en October, pero la fecha del lanzamiento fue cambiada al 28 de Septiembre, The Fragile World esta disponible en iTunes[8] y 4 de las canciones pueden ser escuchadas en el sitio web oficial[9].
Lista de Canciones:
The War
The Deep
The Fuse
The Attack
The Legacy
The Breach
The Escape
The Balance
The Switch
The Passage
The Offering
The Source
The Sacrifice
The Storm
The Stand
The Truce
Arrows To Athens
Arrows To Athens[10] es un nuevo proyecto por Steve Miller and David Hodges. Su primer lanzamiento fue en Febrero del 2011 llamado "Kings & Thieves".
Kings & Thieves
El álbum debut de "Arrows To Athens". Poco se sabe de este proyecto. Dos demos han sido publicados en el sitio web oficial de David Hodges[11].
Lista de Canciones:
Stars
Ashes
Ghosts In the Water
Chase the Sun
Used to Be
Crime
Dust & Gold
The Waiting
Alive
The Silence
Your Gravity
Run, Run
Colaboraciones
Hodges colaboró con Kelly Clarkson, en dos canciones contenidas en el álbum Breakaway ("Because of You" y "Addicted"). También escribió y/o produjo para artistas como Amie Miriello, David Archuleta, Charlie Hall, Jon Shirley, Daughtry, Kaizer Allen, Anastacia, Bethany Dillon entre otros.
Mientras trabajaba en su propia música compuso para otros artistas. En el 2007 trabajo con Celine Dion "This Time") y con los Backstreet Boys ("Something That I Already Know"). Hodges trabajó ademas con Blake Lewis el segundo ganador de American Idol (sexta temporada), para su álbum debut A.D.D. (Audio Day Dream), publicado el 4 Deciembre del 2007.[12]
Esta colaborando con Dashboard Confessional, Nick Lachey, Lesley Roy, Tyrone Wells y los finalistas de American Idol Adam Lambert, Allison Iraheta y Kris Allen. Esta componiendo nuevo material para Kara DioGuardi, Emanuel Kiriakou, Jess Cates, Lindy Robbins, Mitch Allan, Ben Moody, Steve McMorran, Steve McEwan, Chris Thompkins, Jeffrey Steele, Craig Wiseman, Tamar Kaprelian, Dan Muckala, y Weezer.
David incluso colaboró ​​con We Are the Fallen tocando y grabando el piano en su álbum debut, Tear The World Down.
Canciones Inéditas
Lost In December (feat. Hannah Hodges) *
Need Me Now *
I'm So Sorry *
Fall Into You (feat. Amy Lee) *
He Loved Me To Death *
Collector Of Your Tears *
Make This Church Your Home *
Daylight **
3 Words **
Love's Been Good To Me **
It's Too Late **
How It Ends **
Chase The Sun **
Ghosts In The Water **
*Canciones del 2000.
**Canciones del 2009 y 2010.
Notas y Referencias
Links