David Hodges/pt
From The Evanescence Reference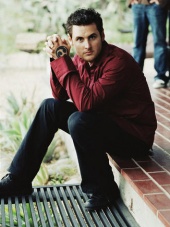 David Hodges era inicialmente o tecladista/pianista do Evanescence. Entrou na banda em 1999 e saiu em Dezembro de 2002, somente 4 meses antes do Fallen ser lançado. Responsável pela maior parte dos sintetizadores e orquestrações do Fallen. Teve a Colaboração de Amy Lee em Breathe (Respire) e Fall Into You (Cair em Você). Atualmente na banda The Age Of Information (antigamente conhecida como Trading Yesterday). A banda lançou "The Beauty and The Tragedy" (A Beleza e A Tragédia) em Junho de 2004 e foram contratados pela Epic Records no verão de 2004, mas acabaram deixando a gravadora em 2005. O álbum da banda, "More Than This"(Mais que Isso) foi arquivado permanentemente e nunca vai ser oficialmente lançado. "More Than This" pode somente ser baixado na internet em Dezembro de 2006. Eles mudaram o nome da banda de Trading Yesterday para The Age of Information em Setembro de 2007 e lançaram um EP em 11 de Setembro de 2007, entitulado "Everything is Broken" (Tudo está Destruído).
David foi contratado como artista solo pela Warner Brothers em 18 de Setembro de 2008[1]. Para seguir o progresso do novo projeto, visite o novo Twitter de David: twitter.com/hodgesmusic
Em 2009, lançou o EP solo, intitulado "The Rising".
David também namorou a vencedora do primeiro American Idol, Kely Clarkson.
Projetos Solo
Musical Demonstrations Pt.1 (2000)
The Summit Church: Summit Worship (2000) (David tem 7 músicas neste CD)
The Summit Church: The Genesis Project (2003) (David tem 3 músicas neste CD)
The Light (soundtrack) (2003)
The Rising EP (2009)
Projetos em bandas
Evanescence - Teclado e Vocal (1999-2002)
The Age of Information (antigamente conhecida como Trading Yesterday) - Vocal, Guitarra e Piano (2003-presente)
Links