I Walk The Line/it
From The Evanescence Reference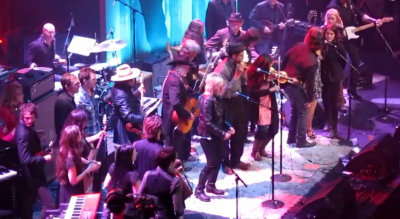 Informazioni Generali
Scritta da: Johnny Cash
I Walk The Line è una canzone dell'artista statunitense Johnny Cash registrata nel 1956. Dopo tre tentativi con posizioni in classifica modeste, "I Walk the Line" è diventato il primo singolo di Johnny a raggiungere la prima posizione della Billboard. Il singolo è rimasto nelle classica per più di 43 settimane, e ha venduto 2 milioni di copie.
Durante il "We Walk The Line: A Celebration of the Music of Johnny Cash", tenutosi il 20 aprile del 2012 nel Moody theater ad Austin, in sua commemorazione, Amy Lee e tutti gli altri artisti invitati all'evento hanno eseguito questa canzone. Amy ha cantato la sua parte di canzone insieme a Pat Monahan dei Train. L'esibizione è stata filmata e verrà pubblicata, insieme all'intero concerto, in un DVD[1].
In rete esiste un video che riguarda l'esibizione[2].
Testo
Commemoration Version
[La parte cantata da Amy e Pat Monahan è stata evidenziata in grassetto]

(Carolina Chocolate Drops)

I keep a close watch on this heart of mine
I keep my eyes wide open all the time
I keep the ends out for the tie that binds
Because you're mine, I walk the line

(Shelby Lynne e Ronnie Dunn)

I find it very, very easy to be true
I find myself alone when each day is through
Yes, I'll admit that I'm a fool for you
Because you're mine, I walk the line

(Sheryl Crow, Brandi Carlile e Rhett Miller)

As sure as night is dark and day is light
I keep you on my mind both day and night
And happiness I've known proves that it's right
Because you're mine, I walk the line

(Pat Monahan dei Train e Amy Lee)

You've got a way to keep me on your side
You give me cause for love that I can't hide
For you I know I'd even try to turn the tide
Because you're mine, I walk the line

(Lastly Lucinda Williams e Sam Beam degli Iron & Wine)

I keep a close watch on this heart of mine
I keep my eyes wide open all the time
I keep the ends out for the tie that binds
Because you're mine, I walk the line

Original Version
I keep a close watch on this heart of mine
I keep my eyes wide open all the time
I keep the ends out for the tie that binds
Because you're mine, I walk the line

I find it very, very easy to be true
I find myself alone when each day is through
Yes, I'll admit that I'm a fool for you
Because you're mine, I walk the line

As sure as night is dark and day is light
I keep you on my mind both day and night
And happiness I've known proves that it's right
Because you're mine, I walk the line

You've got a way to keep me on your side
You give me cause for love that I can't hide
For you I know I'd even try to turn the tide
Because you're mine, I walk the line

I keep a close watch on this heart of mine
I keep my eyes wide open all the time
I keep the ends out for the tie that binds
Because you're mine, I walk the line

Note e Fonti
Voci Correlate
Album

Singoli

Artisti correlati
Persone correlate
Voci correlate