Legends & Lyrics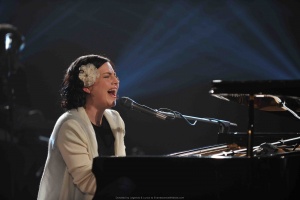 Legends & Lyrics is a musical performance series that features three or four artists of all genres per episode - all who write their own songs. It's filmed in an intimate, classic performance hall where they perform some of their own songs acoustically and talk with each other about their inspirations, ideas and experiences in the industry.
Amy Lee featured in an episode of season 2, along with musicians Dwight Yoakham and Gavin Degraw, that was filmed on February 23, 2009 in Nashville, Tennessee. Terry Balsamo and Dave Eggar also attended to play the acoustic guitar and cello when it came to the performances. They played Bring Me to Life, Lithium, Good Enough, Call Me When You're Sober and Your Love.
A 3 minute preview of the show, that includes interviews and discussions with all three artists, was released by Legends & Lyrics on their website in 2009.[1] In July 2010, they also released a thirty second clip of Amy performing Your Love.[2]
To this day, the episode has never been aired due to multiple problems within the company.
In March 2017, it was announced that Amy's episode would be released first beause of high demand and substantial fan interest.[3] This, however, didn't come about.
In 2018, Legends & Lyrics opened their archives and started releasing episodes. However, only the first two episodes from season 1 were released in 2019, and Amy's episode remains unreleased. The show's team stated that they rely on "legal and contractual elements", including "other considerations that revolve around the individual artists", to release specific episodes.[4]
External links
References
Albums

Solo
Compilation appearances
With Evanescence

Singles
Associated acts
Related people
Related organizations
Related