Omnibus Press Presents the Story of Evanescence/es
From The Evanescence Reference
Omnibus Press Presents the Story of Evanescence is available in english. See the article

Omnibus Press Presents the Story of Evanescence è disponibile in italiano. Vedi l'articolo

Το άρθρο Omnibus Press Presents the Story of Evanescence είναι διαθέσιμο στα ελληνικά. Δείτε το άρθρο

Omnibus Press Presents the Story of Evanescence está disponível em portochese. Ver o artigo

Omnibus Press Presents the Story of Evanescence به زبانِ پارسی موجود است. مقاله را از اینجا بخوانید
The Story of Evanescence
Released

1 de Febrero del 2005

Editor
Omnibus Press
Omnibus Press Presents the Story of Evanescence es una biografía no autorizada escrita por Simone Moore que fue lanzada el 1 de Febrero del 2005.
Las 96 páginas del libro dan el interior de la historia de Evanescence desde 1998 a 2004. También incluye 8 páginas de fotografías a color de la banda (mientras que el resto están en blanco y negro a lo largo del libro).
Tabla de contenidos
Introduction
Vision
Live to Breathe
Depths
Time Line
Discography
Images
The book includes eight full color band pictures. These pictures are:
Errores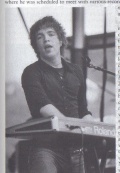 Un error principal en este libro esta en la página 19 donde se presenta a un tipo tocando un teclado "Roland", presumiblemente, en el escenario quién no es reconocido por haber estado en Evanescence en lo absoluto.