Omnibus Press Presents the Story of Evanescence/it
From The Evanescence Reference
Omnibus Press Presents the Story of Evanescence is available in english. See the article

Omnibus Press Presents the Story of Evanescence está disponible en español. Ver el artículo

Το άρθρο Omnibus Press Presents the Story of Evanescence είναι διαθέσιμο στα ελληνικά. Δείτε το άρθρο

Omnibus Press Presents the Story of Evanescence está disponível em português. Ver o artigo
The Story of Evanescence
Pubblicazione

1 Febbraio 2005

Casa Edistrice
Omnibus Press
Omnibus Press Presents the Story of Evanescence è una biografia non autorizzata scritta da Simone Moore e pubblicata il primo Febbraio del 2005.
Il libro di 65 pagine gives the inside story of Evanescence dal 1998 al 2004. Include inoltre 8 pagine con foto a colori che ritraggono la band (mentre le restanti sono in bianco e nero).
Elenco dei Capitoli
Introduction
Vision
Live to Breathe
Depths
Time Line
Discography
Immagini
Il libro include 8 foto interamente a colori della band. Sono queste:
Errori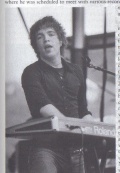 Uno dei tanti errori del libro si trova a pagina 19 dove è stata inserita una foto di un ragazzo presumibilmente sul palco che suona una tastiera Roland, che non è mai stato visto nei concerti degli Evanescence.