Questlove
From The Evanescence Reference
The printable version is no longer supported and may have rendering errors. Please update your browser bookmarks and please use the default browser print function instead.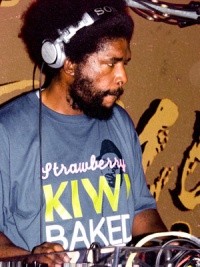 Ahmir Khalib Thompson (born on January 20, 1971), is an American drummer, DJ, music journalist and record producer. He is best known as the drummer for the Grammy award winning band The Roots.
He has made a special appearance as a drummer on one of Evanescence's new songs recorded during the 2010 Steve Lillywhite sessions, You Got A Lot to Learn.[1][2][3] The song wasn't included on the final third studio album due to disagreements with their label and remains unreleased to date.
On March 6, 2010, Amy posted the following photo of him tracking drums on the studio where the Lillywhite sessions took place in early 2010:[4]
External Links
Notes and References