Sally's Song/it
From The Evanescence Reference
Informazioni Generali
Scritta da: Danny Elfman
Sally's Song è una canzone contenuta nel film "The Nightmare Before Christmas" di Tim Burton interpretata da Catherine O'Hara della quale è già stata eseguita una cover da parte Fiona Apple per l'edizione speciale di "The Nightmare Before Christmas Soundtrack". La canzone è la quattordicesima traccia della colonna sonora pubblicata nel 1993.
Anche Amy Lee ha eseguito una cover di questa canzone per il nuovo CD, "Nightmare Revisited", a cui hanno partecipato anche i Korn, i Plain White T's, i Flyleaf, gli All American Rejects e tanti altri. Prima che venisse pubblicata la cover sono stati rilasciate due anteprime della stessa[1][2]. La canzone è apparsa per intero su internet sabato 27 settembre 2008. Nella traccia Amy, oltre cantare, suona sia il pianoforte che l'arpa. Will "Science" Hunt è accreditato d'aver, oltre che prodotto la canzone, suonato la batteria e programmato la traccia. Tra i crediti vengono riportati anche Todd Cromwell (bassista), Chad Chapelin (tastierista di supporto ed ingegnere del suono presso gli "Spaceway Studios" a Dallas, Texas), Shane Wilson (che ha mixato la traccia presso gli "Pentavarit Studios" a Nashville) e Ted Jensen (che ha masterizzato la canzone presso lo "Sterling Sound" di New York).
Amy ha annunciato su EvClub che avrebbe eseguito questa canzone dal vivo nello show di Jay Leno il 13 ottobre[3]. Durante la sua esibizione Amy ha suonato per la prima volta, davanti ad un pubblico, la sua arpa oltre che il piano. Il suo fidato amico, Will Hunt ha suonato la batteria.
La descrizione che Amy ha dato della canzone su EvClub:
Hey ragazzi! Volevo solo dirvi qualcosa a proposito di Sally's Song. Vidi per la prima volta "The Nightmare Before Christmas" quando avevo circa 13 anni. L'amai così tanto (l'arte, la musica, la storia) che l'ho guardato almeno quaranta volte da quel giorno. E' stato un'ispirazione per me anche quando la mia identità artistica stava solamente nascendo, e non mai cambiato nulla - ancora adesso mi dà l'ispirazione per creare qualcosa. Ero la ragazza delle superiori che stava in macchina ad ascoltare la colonna sonora di TNBC invece di quello che andava in voga in quel momento. In tutta onestà, la canzone di Sally è sempre stata la "mia canzone" su quel CD, che suonavo continuamente, costruendo delle armonie sulla canzone per cantarle. Voglio solo esternarlo ad alta voce che sono COSI' fortunata di fare ciò. Vi prego di credermi quando dico che non potevano aver preso una fan più grande per ricantarla. La parte più toga di ciò che che ho avuto il pieno controllo della parte creativa. E' stato come se mi avessero detto "buttati!" e fossi andata a rifare la canzone in qualsiasi modo la volessi. Così sono andata nello studio del mio caro amico Will Hunt in Ft. Worth (non il batterista degli Evanescence, bizzarra coincidenza ma è un ragazzo totalmente differente), che è un produttore veramente creativo ed anche un batterista, e siamo così eccitati di questa canzone. Ho deciso di mostrarvi la mia nuova abilità e suonare in questa traccia l'arpa, che AMO e intendo usare ancora in futuro. Sebbene la mia versione sia diversa dall'originale, ho voluto rendere omaggio a Danny Elfman e alla sua Sally in ogni modo che posso, dalle voci di sottofondo da brivido all'armonium ronzante (che mi rimanda alla fisarmonica della canzone). Non posso aspettare che esca, la amo così tanto! Grazie Will! Non so se voi ragazzi lo sapete già, ma andrò presto a suonarla al The Tonight Show il 13 ottobre. Tim sarà li con me. Spero che la canzone vi piacia, non posso aspettare di sentire che cosa ne pensiate!

con amore, Amy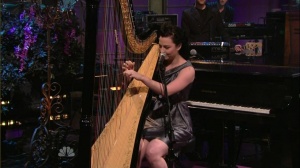 La descrizione che Amy ha dato della canzone su Spin.com:
| | | |
| --- | --- | --- |
| | The Nightmare Before Christmas è la mia prima e più grande influenza artistica in ogni senso. [Quando ero piccola] stavo, letteralmente, seduta nella mia camera e cantavo 'Sally's Song', oppure in macchina mentre andavo a scuola. La parte migliore [nel registrare] questa canzone è stato che non avevo ricevuto restrizioni o direttive di alcun tipo. Ho scelto il produttore, che è un amico, e abbiamo realizzato la canzone così come abbiamo voluto. L'abbiamo registrata 3 mesi fa a Forth Worth, Texas. | |

Il 17 Ottobre 2008 per la premiere del film Nightmare Before Christmas in 3D è stata nuovamente contattata Amy Lee per riproporre la sua cover durante la presentazione del film. Presente a questa esibizione era anche Danny Elfman, l'autore di tutte le musiche del film d'animazione, il quale ha fatto i complimenti ad Amy dicendole che aveva centrato appieno il punto della canzone.[4]
Versioni
Versioni in studio:
Sally's Song
Data di registrazione: giugno-agosto 2008
Stato: Pubblicata
Pubblicata in: Nightmare Revisited
Durata: 3:03
Versioni Live:
Sally's Song [live]
Periodo di Esibizione: ottobre 2008
Stato: Non pubblicata
Esempio: The Tonight Show with Jay Leno
Sally's Song [live]
Periodo di esibizione: ottobre 2008
Stato: Non pubblicata
Esempio: Live on El Capitan Theatre, Los Angeles
Testi

Original Version

I sense there's something in the wind
That feels like tragedy's at hand
And though I'd like to stand by him
Can't shake this feeling that I have
The worst is just around the bend

And does he notice my feelings for him?
And will he see how much he means to me?
I think it's not to be

What will become of my dear friend?
Where will his actions lead us then?
Although I'd like to join the crowd
In their enthusiastic cloud
Try as I may, it doesn't last

And will we ever end up together?
No, I think not, it's never to become
For I am not the one


Amy Lee Version

I sense there's something in the wind
That feels like tragedy's at hand
And though I'd like to stand by him
Can't shake this feeling that I have
The worst is just around the bend

And does he notice my feelings for him?
And will he see how much he means to me?
I think it's not to be

What will become of my dear friend?
Where will his actions lead us then?
Although I'd like to join the crowd
In their enthusiastic cloud
Try as I may, it doesn't last

And will we ever end up together?
Ooh...

And will we ever end up together?
No, I think not, it's never to become
For I am not the one


Traduzioni

Versione Originale

Sento che c'è qualcosa nel vento
Che da l'impressione di una tragedia che sta per arrivare
E anche se vorrei stare dalla sua parte,
non riesco a smuovere questa sensazione che ho
il peggio è proprio dietro l'angolo

e si accorgerà dei sentimenti che provo per lui?
E capirà quanto conta per me?
Penso che non sarà così

Cosa ne sarà del mio caro amico?
Dove ci porteranno poi le sue azioni?
Anche se mi piacerebbe unirmi alla folla
Nella loro nuvola di entusiasmo
Io ci provo, come posso, ma so che non durerà

E noi finiremo mai insieme?
No,io penso di no,non succederà mai
Perché io non sono l'unica


Versione di Amy Lee

Sento che c'è qualcosa nel vento
Che da l'impressione di una tragedia che sta per arrivare
E anche se vorrei stare dalla sua parte,
non riesco a smuovere questa sensazione che ho
il peggio è proprio dietro l'angolo

e si accorgerà dei sentimenti che provo per lui?
E capirà quanto conta per me?
Penso che non sarà così

Cosa ne sarà del mio caro amico?
Dove ci porteranno poi le sue azioni?
Anche se mi piacerebbe unirmi alla folla
Nella loro nuvola di entusiasmo
Io ci provo, come posso, ma so che non durerà

E noi finiremo mai insieme?
Ooh…

E noi finiremo mai insieme?
No,io penso di no,non succederà mai
Perché io non sono l'unica

Note e Fonti
Collegamenti Esterni
Album

Singoli

Artisti correlati
Persone correlate
Voci correlate