Template:News
From The Evanescence Reference
November 21, 2015
Evanescence play OzzFest to finish off the first set of shows following the hiatus. 2016 tour dates are soon to be announced.
August 7, 2015
Jen Majura joins Evanescence, replacing Terry Balsamo, who left due to ongoing health problems. New tour dates are announced.
September 28, 2013
A benefit acoustic show for Wellspring House with Amy Lee and Paula Cole (with whom Amy performed an acoustic show with during the Restore Freedom Gala 2012 event) is confirmed to be taking place at the Shalin Liu Performance Center in Rockport, Massachusetts on November 7, 2013. Tickets cost $200.
February 14, 2013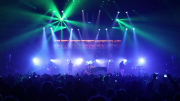 January 17, 2013
January 16, 2013