Template:News
From The Evanescence Reference
December 3, 2018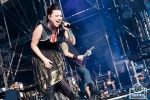 Evanescence have announced that they will be playing as few US festival shows in May 2019. Stay tuned for details!
November 13, 2018
Tim McCord has confirmed that he's recording a solo album. Click here to follow him on Instagram and check out the updates.
November 9, 2018
October 17, 2018
An interview with Amy Lee is featured in Kerrang! Magazine issue 1744. She mentioned how she's working on "a little collaboration idea", but hasn't specified if it's for solo work or Evanescence. Click here to grab your copy - ships worldwide!
October 12, 2018
October 10, 2018
October 8, 2018