Template:News
From The Evanescence Reference
July 18, 2019
Evanescence began their July mini-tour last night at the Eagles Ballroom in Milwaukee, WI and brought back the songs Say You Will and Oceans to the setlist.
July 16, 2019
July 12, 2019
Evanescence have announced that Veridia will be touring with them on their European tour in September.
June 16, 2019
Evanescence and Within Temptation have been confirmed to co-headline together on the same stage at Riverside Open Air Festival in Aarburg, Switzerland on September 1st. Click here for tickets.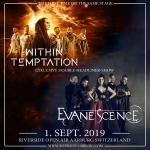 May 27, 2019
May 17, 2019
Evanescence have announced a new show at The Rave Eagles Club in Milwaukee on July 17th. Pre-sale will begin on May 20th 10AM CST with the password Evanescence19.
May 7, 2019