Björk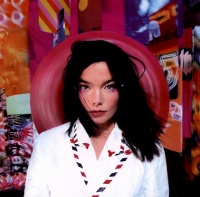 Björk is a singer/songwriter who grew up and was born in Iceland. Her musical career began in 1977 when Björk was 12 and a radio station helped her create an album of covers of popular songs. She then collaborated in many bands such as Tappi Tikarrass, KUKL, The Elgar Sisters and The Sugarcubes. The Sugarcubes was the band that spring boarded her career into the international scene, but after their third studio album, the group disintegrated:
"Sugarcubes, number one was people. We liked each other and we had a good time together and the music that came out of that relationship was a bit of an accident. When I realized the Sugarcubes had become this serious band-thing, I started to realize that it was now or never. If I didn't record all those songs I'd written in my head, then it would never do it." "You shouldn't milk out a joke for too long."
After a few other collaborations, Björk finally released her first official solo album of new material titled Debut. The album, rich with playful beats and unique melodies, quickly went Platinum in the U.S.
Her presence in the pop scene continued with subsequent releases Post, a more electronically inspired album with classic elements, then Homogenic, which experimented further with her unique sound and spawned the song 'All Is Full of Love' (the video of which, directed by Chris Cunningham, won countless awards for it's advances in video technology) and one of Amy's favorite Björk songs: 'Jòga.'
After the era of Homogenic, her focus changed to the movie 'Dancer In The Dark' in which she starred and for which she wrote the soundtrack titled Selmasongs. Björk played a blind woman, Selma, who used music to overcome her many problems in life, and ultimately her death.
Vespertine came next where Björk played with tiny beats and sounds, while still always keeping classical strings a vital part of her repertoire. It was within the era of Vespertine where the famous Swan Dress appeared, which raised eyebrows at the 2001 Academy Awards. The next year, Björk released Greatest Hits, Family Tree—'a taxonomy of songs' from her entire musical career—and a complete videography called Volumen. She also released 4 live albums to compliment each of her previous studio albums respectively.
Her next studio album, Medúlla, features music that is almost 100% human vocals (While most of the album consists of vocals, a few instruments managed to sneak in. There is a gong on 'The Pleasure is all Mine,' a bass synth on 'Oceania,' and Björk plays the piano on 'Ancestors'). The avant-garde sound of this album is totally different from any of her previous work. It is the only album, as of yet, that has not been toured live.
Björk later starred in and wrote the soundtrack for her then-current boyfriend Matthew Barney's movie Drawing Restraint 9, an art film that focuses on 'change of form.' The movie briefly toured independent theaters around the world and spent over a year at the San Francisco Museum of Modern Art as an exhibit. Björk explored traditional Japanese music styles to complement the experimental film where two lovers find themselves on a whaling ship and cut off and eat pieces of each other's legs before making love, turning into whales, and swimming away (to put it simply).
Her sixth album, Volta, was released in April of 2007 and was accompanied by her first worldwide tour in 4 years. The album is yet another reinvention for the artist with strong brass rhythms and creative use of unique instrumentation. In 2009, she produced a live compilation titled Voltaic including studio recordings of songs as they were performed live, a live concert DVD, a disc of Volta remixes and a DVD of music videos to document her epic 2-year tour.
Three years later, she releases Biophilia, billed as the "first app album". It explores the links between nature, music and technology.
Her next album, 2015's Vulnicura, documents Björk's break-up with Matthew Barney. She described it as "a more traditional album than Biophilia for what concerns songwriting. It's about what may come to a person at the end of a relationship. It talks about the dialogues we may have in our heads and in our hearts, the healing processes."
Her ninth album, Utopia, was released in 2017. It's a direct parallel to her last project, Vulnicura. With a more positive vibe, Utopia refers to a utopian fantasy rather than a dystopian vision, focusing on finding solutions for the current state of the world.
Björk has two children, her son Sindri (born June 8th 1986) and her daughter Ísadóra (born October 3rd 2002). Sindri bears a very striking resemblance to his mother and is a noted photojournalist in Iceland and the UK.
Amy and Björk
When asked about her significant musical influences, Björk is almost always mentioned by Amy in interviews. A few times she elaborates:
| | | |
| --- | --- | --- |
| | She's my idol, - Lee gushed. - It was the only time I was awestruck. I was so shocked to meet her I could hardly speak, which is embarrassing. Because I believe we're all equal and fame doesn't mean much and that we're all just people. But with Björk, it was so hard for me. I've always been that 'dumb fan' with her. Her art has inspired me so much. I wanted to understand all her lyrics because they were so intimate. It was like she was offering a piece of herself she would never be able to if not through her art. When people approach me freaking out — shaking and crying — I just tell them I'm no different. I want to tell them that I'm nothing special. But I also don't want to ruin their moment. But there I was, pulling the same crap on Björk," Lee said, letting out a big sigh. "I felt like such a stupid fan. 'I can't stick around for champagne, Björk, I have to go off and cry.' And I did. I held it together and then I went off and cried. I had just seen her perform for the first time.[1] | |

Amy and Björk first met at the backstage of Fuji Rock Japan in 2003 after Amy watched Björk's performance for the first time:[2]
It was the first time for me to see her perform, it was raining, and she was amazing and I cried the whole time. And MTV in Japan is insane, so MTV has a video cameranon me the whole time watching Björk's performance and they're not taping her performance, they're taping my face watching her perform. It was really funny. So I'm, like, sobbing. You get to where you just ignore the camera, but it was weird.

Afterward, Lee met Björk in her dressing room and got an invitation to share some bubbly.

She's like, 'Why don't you stay and have some champagne?'. And all the people in the room were looking at us. And I looked at the champagne and my eyes started getting stingy. And I was just like, 'Nah, actually, I have to get up really early. I better go.' And I only talked to her for less than a minute because I knew I was about to cry. I could have killed myself after. But I knew I couldn't stay.

In a interview with Evanescence Website, Amy expressed she would love to collaborate with Björk:
| | | |
| --- | --- | --- |
| | I'd love to collaborate with Björk, but I honestly don't think there's anything I could bring to the table the she couldn't do better. I just saw her live the other night in Madison Square Garden and was completely stunned as always. I leave her show an emotional wreck—if any of you haven't explored her music, RUN to the store and buy Post, Homogenic, Vespertine, or ANY of them. There is nothing like Björk. She is the Mozart of our time.[3] | |
Amy's favorite Björk album is Post, while her favourite songs are "Crystalline", "Army Of Me", "Joga" e "Pagan Poetry"[5]. Amy has also been spotted at a few of Björk's live performances.
In a 2006 interview at Rolling Stone Germany, Björk stated:
RS: In the actual musical scene, wich singer do you admire?

Björk: In the actual musical scene, i really like Amy Lee from Evanescence.

RS: Have you had any contact with her?

Björk: In a show in Japan, she went to my room and we drank champagne together, she was really cool and funny, we just had a great time. She just has an amazing voice and the way she expresses her feelings and emotions in the music is also amazing, without a doubt she would be one of the greatest in the scene now, if we focus in the general scene we would have so many options that it's just hard to think of it.[6]

On March 20, 2019, Amy revealed she was working on a cover of Björk's "Jòga", but didn't give any release date.[7]
On May 20, 2019, Amy posted a lengthily description about her experience of Björk's show in New York:
So Thursday night I went to Bjork's Cornucopia at The Shed in NY and I just have to talk about it. I had read about new instruments that were created specifically for the show, and knew that it would be somehow immersive, but I didn't really know what to expect. That was part of the magic. Walking in felt so special, she created this mystery and anticipation with the entire atmosphere that is so rare in music today. We know what a show is, we have some idea what do to and what to expect, but this was like walking into my first concert. Or opera, or play, or theme park ride. I didn't know what was going to happen and it was truly exciting. The atmospheric alien sounds you hear on Utopia were all around in 3D sound and the lights were dim-dark, while we got our drinks and were led to our seats- so before the show even started you were in Bjork's world. It began with an a cappella Icelandic youth choir performance, all written by Bjork, and directed by this spritely, expressive, just enchanting elderly lady who once I saw her, couldn't look away. I want to be her when I grow up. Choir is one of my big musical passions and early inspirations, and one of my dreams besides my band and making music for film is eventually going into some form of choral directing. Within the first 2 minutes my tears started streaming and Bjork wasn't even onstage yet.

When she did come out, and I heard that voice, and that deep penetrating sub bass, I felt like sound was pouring into my ears and flowing down into my heart, and spreading out through my whole body. The whole thing was surround sound, live elements would pop up at different places in the house, from behind me, musicians deep in the audience, instruments descending from the ceiling, so much visual stimulation and an answer to every element you could hear if you looked for it. I was totally captivated by her the whole show, and at one point thought to myself, that if I could reach back in time and see the 1990s Bjork I first fell in love with instead of all that she has evolved into, I wouldn't want to. I love her exactly as she is right now, and am continually and forever inspired. It was phenomenal. And did I mention she has the most powerful yet dynamic voice on the planet? Even without a single bit of that production, just her singing would be amazing to hear and see. Thank you Bjork. As one of your biggest fans, you always deliver above and beyond my expectations.[8]

During a podcast in December 2019, Amy picked up "Blissing Me" off 2017's Utopia as one of her favorite songs:[9]
It's impossible to choose one Björk song from the new album, to sum up, or represent it. There are too many aspects worth focusing on, it's something that you have to go through, you really have to listen to the whole thing. One of my favorite parts of the new album is its lyrics. The poetry. Most of the songs could just be read without music and stand alone as a great poem. I chose Blissing Me, because listening to the words and hearing the story play out made me smile, and connect with my own feelings and experience about music. Also, they remind me of classic Bjork- Headphones from Post.
Notes and References
External Links