Cold
From The Evanescence Reference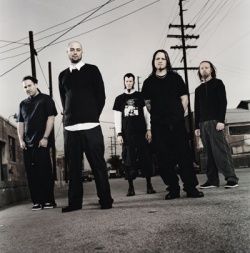 Cold is an American rock band, formed in 1992 in Jacksonville, Florida. Terry Balsamo was a member from 1999 until 2004, and then rejoined in July 2016.
When Ben Moody left Evanescence in 2003, Terry was originally a temporary replacement, but after Cold's future became uncertain, he was asked to become a permanent member of Evanescence and accepted. Amy Lee confirmed the news in an interview with Australia's Undercover News;
| | | |
| --- | --- | --- |
| | They could hire another guitar player and continue, but I'm pretty sure that their lead singer is in and out of rehab and having real problems. He has been for a long time and I don't think they're going to be making another record. Terry was in a situation also where their band was very unhappy, so I think we came together on a common ground. | |

Amy Lee formally apologized to the band and their fans on the Cold message board and Evboard in January after making those comments referring to Scooter Ward's health and the band's future. The band (along with Revis, Cauterize, and Finger Eleven) toured with Evanescence during the Nintendo Fusion Tour. The band formed in 1989 as "Grundig" then later, due to an existing copyright, changed their name to "Cold". The band broke up on November 17, 2006.
On July 25, 2008, a blog written by Scooter Ward on The Killer and the Star's MySpace confirmed both a b-sides/rarities release and a new Cold album featuring the original line-up, due Fall 2009.
In January 2009 Cold officially announced the first dates of its reunion tour on the band's MySpace page. When the page was originally updated, the lineup consisted of Scooter Ward, Sam McCandless, Jeremy Marshall, Kelly Hayes and Terry Balsamo. Hayes was replaced by Joe Bennett, who parted ways with Cold in July 2009 and has been replaced by former Cold guitarist Zac Gilbert. Terry Balsamo was briefly replaced by Michael Harris of Idiot Pilot, who also played bass in The Killer and the Star. After the first tour in the spring, the band went out on the road again later that summer.
A year after Terry's departure from Evanescence, it was announced in July 2016 that he had rejoined Cold and that they will be working on a brand new album the next month.
In January 2018, Cold posted to Facebook that they are in the final stage of production with their new album and confirmed the band's line-up, which didn't include Terry. When a fan questioned why Terry wasn't touring with them, Cold responded that they "love Terry very, very much" and "possibly one day he will play with [Cold] again". Another question was asked if he was gone for good, to which Cold said that they are "not sure about that" and they are "sure Terry will explain everything to everyone some day. [They] love T and will always be [there] for him! He's just doing what he needs to do at the moment".[1]
Band Members
Current
Scooter Ward - lead vocals, keyboards, rhythm guitar (1996–2006, 2009–present)
Lindsay Manfredi - bass (2014–present)
Nick Coyle - lead guitar, backing vocals (2017–present), keyboards (2021-present)
Jonny Nova - rhythm guitar (2018-present), programming (2021-present)
Tony Kruszka – drums, percussion (2021–present)
Former
Matt Loughran – lead guitar (1986–1992, 2004–2006)
Jeremy Marshall – bass, backing vocals (1986–1995, 1996–2006, 2009–2014)
Sean Lay – lead guitar (1992)
Pat Lally – bass (1995–1996)
Kelly Hayes – guitar (1992–2004, 2009)
Terry Balsamo – guitar (1999–2004, 2009, 2016–2018)
Eddie Rendini – rhythm guitar (2004; died 2015)
Mike Booth – rhythm guitar, keyboards (2005)
Zac Gilbert – rhythm guitar (2005–2006), lead guitar (2009–2016)
Joe Bennett – lead guitar (2009)
Michael Harris – rhythm guitar (2009)
Drew Molleur – rhythm guitar, backing vocals (2010–2016)
Ethan York – drums, percussion (2017–2019)
Sam McCandless – drums, percussion (1986–2006, 2009–2015, 2019–2021)
Discography
Cold (1998)
13 Ways to Bleed on Stage (2000)
Year of the Spider (2003)
A Different Kind of Pain (2005)
Superfiction (2011)
The Things We Can't Stop (2019)
Links
References