Lacuna Coil
From The Evanescence Reference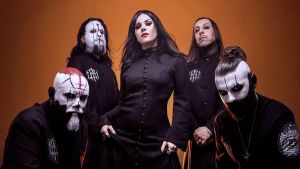 Lacuna Coil Lacuna Coil is a gothic metal band from Milan, Italy. Since their formation in 1994, the group has had two name changes, being previously known as Sleep of Right and Ethereal. Inspired by the combination of gothic imagery and music, the members have been known, musically, for composing mid-tempo songs consisting of prominent guitar lines and contrasting dual female/male vocal harmonies to help create a melodic, detached sound. Much of the band's recent material, however, sees a heavier and more down-tuned style, featuring a more distinct bass line and a higher mixing of the guitars within the songs. Cristina was rumored to be a member on EvBoard.
In an interview with MTV on August 26, 2004, Cristina said that she doesn't mind Lacuna Coil being compared to Evanescence;
| | | |
| --- | --- | --- |
| | They're a good band and people like them, so why should I be upset? It's funny, because in Europe we've been known for a while, so people say the opposite thing. They hear Evanescence and say, 'Oh, is this the new single from Lacuna Coil?'. It's strange to me that Americans are getting into [Comalies] two years after it came out. People are maybe like, 'Hey, they sound kind of like Evanescence, I like this.' And they don't know that the album is two years old. So, we have all this new material we've written on tour, but we would have to stop to record it, and we're never at home, we're always on tour.[1] | |

In September 2020, vocalist Cristina Scabbia featured in part 22 of Jen Majura's 1 minute jams alongside Ruud Jolie of Within Temptation, and they covered How Do You Do! by Roxette. Watch the video here.
Band Members
Current
Andrea Ferro — male vocals (clean/unclean) (1994–present)
Marco Coti Zelati — bass, keyboards (1994–present), guitars (2016)
Cristina Scabbia — female vocals (clean) (1996–present)
Diego Cavallotti — guitars (2016–present)
Richard Meiz — drums (2019–present)
Former
Michaelangelo Algardi — drums, percussion (1994)
Raffaele Zagaria — guitars (1994–1998)
Claudio Leo — guitars (1994–1998; died 2013)
Leonardo Forti — drums, percussion (1994—1998)
Cristiano "Pizza" Migliore — rhythm guitar (1998–2014)
Cristiano 'CriZ' Mozzati — drums, percussion (1998–2014)
Marco "Maus" Biazzi — lead guitar (1999–2015), rhythm guitar (2014–2015)
Ryan Blake Folden — drums (2014–2019, touring 2012–2013)
Discography
In A Reverie (1999)
Unleashed Memories (2001)
Comalies (2002)
Karmacode (2006)
Shallow Life (2009)
Dark Adrenaline (2012)
Broken Crown Halo (2014)
Delirium (2016)
Black Anima (2019)
External links
References