Nightwish
From The Evanescence Reference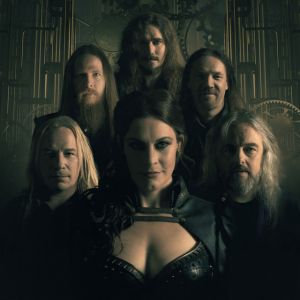 Band formed by Tuomas Holopainen, Erno "Emppu" Vuorinen and Tarja Turunen in 1996. This band is often mentioned, among a number of others, as sharing a similar sound with Evanescence. Their 2005 release was End of An Era, a DVD of their final performance with Turunen, fired from the band in October 2005. In May 2007 they band named Anette Olzon as their new singer. They released their new album, Dark Passion Play, on October 2, 2007 in North America.
This is what Tarja had to say about Evanescence:
Some of the people who probably discovered Nightwish a couple of months ago, compare you a lot to Evanescence, which has pissed off a lot of your fans. They even compared the cover artwork of "Once" to that of an Evanescence single…

It was not meant to be like that, it did not have anything to do with Evanescence's cover. We just realized that afterwards, you know. Hey if people think that this is similar, so let them think. It has nothing to do with that really. I can also mention that when Tuomas heard Evanescence's music for the first time, he was completely pissed off. He was pissed off by the fact that it's a totally different style (that of Evanescence) and because they had a woman singing and because it had a little bit of metal inside it…but it's a totally different style and kind of music. People tend to compare our music to Evanescence and it's very funny because there are not that many elements there that we have in common. [laughs]

I've even heard journalists even say that you've copied Evanescence and I was like "what the hell are you guys talking about?"…

Yeah, sure, sure…we've been around six years more than they have! [laughs] That was very funny of them to say.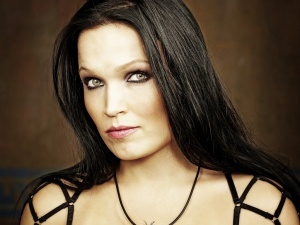 Annete Olzon also published Lithium on her blog.
In a 2007 interview, Amy was told that people compare Nightwish and Evanescence, and this is what she said:[1]
I don't know. I don't really listen to their music very much. I had like one song. I think that a lot of people compare bands that look the same, and there are definitely bands out there that are gothic and have female singers in them and rock sort of music but also classical. I seem to think that we're very different than any band I've ever heard. I've heard some bands that people compare to us a lot of times and [I] really thought there weren't that many similiarities. So, I don't know, I think it's all about the way you listen to it and what you take from the music.
Band Members
Current
Tuomas Holopainen - keyboard (1996-present), vocals (1996-1998)
Erno "Emppu" Vuorinen - guitars (1996-present), bass (1996-1997)
Troy Donockley - uilean pipes, tin whistle, vocals (2013-present)
Floor Jansen - vocals (2013-present)
Kai Hahto – drums (2019–present; session / touring member: 2014–2019)
Jukka Koskinen – bass (2021–present)
Former
Sami Vänskä - bass (1998-2001)
Tarja Turunen - vocals (1996-2005)
Anette Olzen - vocals (2007-2012)
Jukka Nevalainen – drums (1997–2019; hiatus 2014–2019)
Marco Hietala - bass, vocals (2001-2021)
Discography
Angels Fall First (1997)
Oceanborn (1998)
Wishmaster (2000)
Century Child (2002)
Once (2004)
Dark Passion Play (2007)
Imaginaerum (2011)
Endless Forms Most Beautiful (2015)
Human. :II: Nature. (2020)
External Links
References