Plumb
From The Evanescence Reference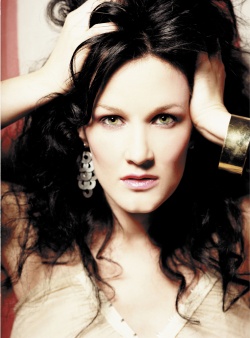 Tiffany Arbuckle Lee, better known by her stage name Plumb, is a songwriter, recording artist, performer and author. Plumb has sold more than 500,000 albums and over two million singles worldwide, co-penned songs for numerous other artists, including Michelle Branch, Mandisa, Mandy Moore, Jaci Velasquez, and Natalie Grant, and had music placed in many films and television shows. Originally signed as a Christian Contemporary Music (CCM) recording artist in 1997, Plumb is now known as well as or better in alternative rock, electronic dance music, and for the use of her music in film and television than she is in the CCM market.
Amy Lee has cited Plumb as one of her musical inspirations when starting Evanescence. In an interview with Plumb in 2006, she called being Amy's inspiration "flattering":
Interviewer: On a different note, your bio indicates that your voice has been an inspiration to Amy Lee of Evanescence. Does it bother you when your music gets compared to theirs?

Plumb: To be compared to anything successful is always flattering, and then to know that I'm significantly older than Amy Lee—I was putting out my third album when Evanescence was just releasing their first—gives people a time frame to not stand on any soapbox at all. When Evanescence just came out, Amy was quoting some of her big influences, and I was one of her primary vocal influences. I'm just flattered by that. So when people compare me to them, if they only heard my first, second and third albums, they'd probably see where that comes from.[1]
Discography
Plumb (1997)
candycoatedwaterdrops (1999)
Beautiful Lumps of Coal (2003)
Chaotic Resolve (2006)
Blink (2007)
Need You Know (2013)
Exhale (2015)
Beautifully Broken (2018)
External Links
References