Something On 11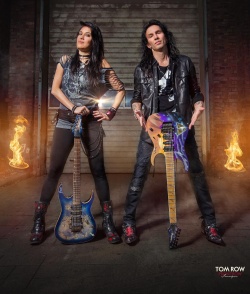 Something On 11 is a collaborative project between Jen Majura and Alen Brentini that began in 2018. Jen posted this announcement to Instagram on September 15, 2018:
Today is the day!

Today we go public! Today we start!

I met Alen for studio recordings earlier this year and we immediately connected musically. Within a heartbeat we decided to create "Something on 11" - a project dedicated to pure tasteful rock guitar music! Let's see, where this journey will take Alen & me and grow together with us - please like this page (also our Facebook page @something_on_11 "Something On 11"), tell your family, buddies, friends and pets about it... Alen also will have his solo album released at the end of this month, you should check out his profiles! 😜👍🏼 We wanna come to your place and play our music FOR YOU in spring 2019!!! 🇦🇷🇧🇷🇩🇪🇫🇷🇬🇷🇭🇷🇸🇪🇪🇸🇮🇹etc. Please support us, like this site and make it happen!!! #so11rocks[1]

Their first song, Andrew's Hypothalamus, was exclusively premiered on TheGuitarGeek's YouTube channel. Listen to the song here.
Jen confirmed that three songs have been recorded so far, and that they will be returning to the studio in December 2018.
Discography
Andrew's Hypothalamus (2018)
Soul Suffer Payment (2018)
External Links
References