The Evanescence Reference
From The Evanescence Reference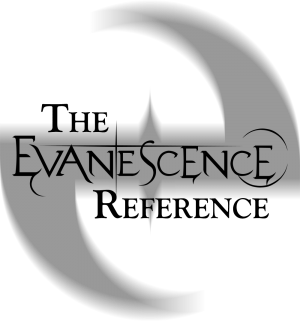 The Evanescence Reference está disponible en español. Ver el artículo

Το άρθρο The Evanescence Reference είναι διαθέσιμο στα ελληνικά. Δείτε το άρθρο

The Evanescence Reference è disponibile in italiano. Vedi l'articolo

The Evanescence Reference está disponível em português. Ver o artigo

The Evanescence Reference started out as a two-post thread on EvBoard.com as a collaboration between the moderators of the message board. It was created both to teach new fans about the facts and to re-teach the seasoned veterans what they might have forgotten.
First Edition
The original thread was two posts long (the first post was the first half of the alphabet, the second was the rest) that was only editable by staff members. It included much of the information on this website—including mini band member biographies, information about songs and much more. The only known archive of this is an 18-page printed copy as it existed in July of 2004.
Wiki
Sometime in May of 2006, Dhammaseeker came up with the idea of making a wiki version. That is, a comprehensive database of all things Evanescence that could be easily edited by anyone. The wiki went public on July 19th, 2006.
The Evanescence Reference now has 600 registered users and almost 6,000 edits. It is linked to by all major fan websites including EvThreads, Evanescence's official message board.
The Information
Wikipedia still does not consider The Evanescence Reference to be a reliable source due to lack of reliable references. Put simply, the fact that not all information on here can be accurately 'referenced' in the traditional sense just shows that there is more to this band than news articles and interviews.