Wagakki Band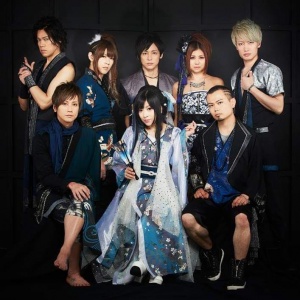 Wagakki Band (和楽器バンド, wagakkibando) is a Japanese band that plays rock music with wagakki (traditional Japanese musical instruments). Their early songs were adapted from Vocaloid recordings but they have since written their own original music. Their music videos for the songs "Tengaku" (天樂) and "Senbonzakura" (千本桜) have attracted millions of views on YouTube. They have played live in Asia, Europe, and the United States.
Amy Lee posted a photo with a couple of the band members at Evanescence's Synthesis Live show in Los Angeles on September 8, 2018.
| | | |
| --- | --- | --- |
| | I got to meet members of a group I am totally fascinated with at our show at the Greek the other day- @wagakkiband ! I almost cried when I found out they had flown all the way from Japan just to see our show! 😵😵😵 What an honor! Yuko even gave me a real performance fan and gave me a little demonstration! ❤️❤️❤️ Great to meet you guys![1] | |

Amy will be performing together with Wagakki Band as a special guest at their orchestral show in Japan on February 16, 2020. They will play a new song written for the event.[2]
Band Members
Suzuhana Yuko (鈴華ゆう子) – vocals
Machiya (町屋) – guitar
Ninagawa Beni (蜷川べに) – tsugaru shamisen
Ibukuro Kiyoshi (いぶくろ聖志) – koto
Asa (亜沙) – bass
Kaminaga Daisuke (神永大輔) – shakuhachi
Wasabi (山葵) – drums
Kurona (黒流) – wadaiko
Discography
Joshou (序章) [2013]
Vocalo Zanmai (ボカロ三昧) [2014]
Yasou Emaki (八奏絵巻) [2015]
Shikisai (四季彩) [2017]
Otonoe (オトノエ) [2018]
React EP [2019]
External Links
References