White Zombie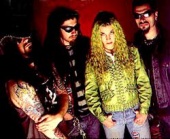 Text taken from Wikipedia.org.

White Zombie was an american heavy metal band named after the 1932 film of the same name (White Zombie), which starred Béla Lugosi.
Based in New York, White Zombie was originally a noise rock band in the vein of fellow New York band Sonic Youth; Sonic Youth's Thurston Moore and fellow grunge icon Kurt Cobain have professed to be fans of their early work. However, White Zombie are better-known for their later heavy metal-oriented sound, with lyrics heavily influenced by horror films and pseudo-Satanic imagery. Unlike other metal bands of the 1990s, White Zombie was almost exclusively a "fantasy" band, writing songs not based on their lives or experiences, but about surreal horror fantasies.
The group officially disbanded in 1998 shortly after the release of singer Rob Zombie's solo album Hellbilly Deluxe.
Evanescence loops a sample of the song Ratfinks, Suicide Tanks and Cannibal Girls in Even In Death from Origin and Snow White Queen from The Open Door. This song is from the Beavis and Butt-head Do America Soundtrack, the last single, as well as the last song, the band would release before disbanding.

Click here to listen to the whole song by White Zombie.
Links