Chris Cornell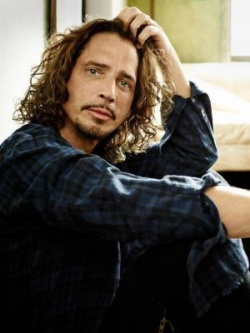 Christopher John Cornell (né Boyle; July 20, 1964 – May 18, 2017) was an American musician, singer and songwriter. He was best known as the lead vocalist for the rock bands Soundgarden and Audioslave. Cornell was also known for his numerous solo works and soundtrack contributions since 1991, and as the founder and frontman for Temple of the Dog, the one-off tribute band dedicated to his late friend Andrew Wood.
Chris died by suicide on May 18, 2017. Evanescence's song, Imperfection, is partly inspired by the event as Amy Lee explained that the song is about "for all the people we've lost, all the people who we could lose, to suicide and depression."
Amy posted this tribute to social media after Chris' death was confirmed:
Chris Cornell was one of my favorite vocalists of all time. ‪When we were recording Fallen, I would sit in the car in the studio parking lot every morning before going in and warm up my voice to‬ 'Fell on Black Days.' I loved how deeply soulful he was- it was such a beautiful and unique combination between his bluesy soulful wailing and the dark, heavy music. It was so much cooler than just screaming, which would have been the more obvious match to the music. That's what made it special. They changed what metal was to me. Expanded the boundaries...

There have been way too many tragic, early deaths in the music industry lately. Why are we so lost? Cornell moved and inspired so many people. SO many... For now my thoughts are here: No one is immortal. Everyone feels the pain. No one has a perfect life. We have to remember our fragility- that of the people we love, look up to, even our enemies. You never know what people are really going through on the inside, so we must take extreme care. And love the best we can, while there's still time. "I'm only faking when I get it right..." Oh, how I've always related to that line. Knowing you felt that way made me stronger. Farewell to another hero. Thank you for sharing your heart, your search light soul with us.[1]
References