Imperfection
From The Evanescence Reference
General information
Written by: A. Lee, W. B. Hunt, T. McCord, J. Majura, W. Hunt and T. McLawhorn
Imperfection is the sixteenth track and the first commercial single from Evanescence's fourth studio album, Synthesis. It was released digitally on September 15, 2017 despite speculation of the song being released on September 5, 2017. Imperfection was leaked on to YouTube on September 4, 2017, but Amy and Sony BMG quickly intervened and all videos posted with the audio were blocked from being seen and played.
On September 14, 2017 a live stream of the song as well as a Q&A session on Evanescence's Official Facebook page were hosted. A fan asked what the inspiration for the song was and Evanescence replied:
| | | |
| --- | --- | --- |
| | We had the music for a few months before I could figure out what the lyrics were going to be. It's hard to force yourself to feel. Then I couldn't deny what was going on inside me anymore, even though it's so fucking hard to talk about. The loss. The loss to suicide. The pain and the connection we have to make with each other. Never stop fighting for your life. Life is worth it, it's impossibly hard sometimes but we have a purpose here, and it's impossibly beautiful sometimes too. Give it that chance. Stay. And what makes us different is what makes us US. Our flaws are our beauty. | |

Also during the Q&A on Facebook, Evanescence confirmed that Imperfection will have a music video and it would be filmed the next day, September 15, 2017[1].
The song was written from the perspective of someone "left behind" after a suicide or loss, with Amy saying:[2]
| | | |
| --- | --- | --- |
| | "I struggled with the lyrics for a long time because there was a lifetime of work to live up to and I wasn't sure what to say or how to be good enough," Lee said. "When it finally started pouring out of me, it was undeniable. I had no choice. It's for all the people we've lost, all the people who we could lose, to suicide and depression. I'm singing from the perspective of the person left behind, the person in the waiting room. It's a plea to fight for your life, to stay. Don't give into the fear – I have to tell myself that every day. Nobody is perfect. We are all imperfect, and it's precisely those imperfections that make us who we are, and we have to embrace them because there's so much beauty in those differences. Life is worth fighting for. You are worth fighting for." | |

In the songbook/tour program given to those who purchased VIP packages and available at the merch booth, the song is explained:
| | | |
| --- | --- | --- |
| | We realize it's quite unusual to have the first single as the last song, but if you look at Synthesis as a whole, it is our story: From the beginning of our origins through both dark and beautiful hours, to what we have become. From the tiniest flicker of hope in our most painful and isolated moments, to the overflow of love we find when we finally reach each other: Imperfection is our soundtrack song to the story of Evanescence thus far, may it bring home this recurring truth: We are broken, but we are not alone. Sometimes it can be hard not to feel like the world is falling apart all around us. We're not numb to the pain we feel it. We even see the beauty in it. Life is pain and love and beauty and loss and so much more... We have to feel it to live it and it's worth it. Don't give into the fear. Never stop fighting, never give up hope, love is worth fighting for. | |

As part of Inside Synthesis, a video of the recording process and making of the song was released on September 29, 2017.[3]
Many fans have the opinion that Amy raps the verses while others opine that she is just singing fast such as in her cover of Baby Did a Bad, Bad Thing. This misconception could be derived from the beat of the song and the copperphone whisper track and lead vocal track that sounds like it was recorded with both a copperphone mic and regular mic.
This song is the first Evanescence song to be labeled as explicit. This is also the first Evanescence song that credits Jen Majura as one of the songwriters[4].
Imperfection was performed live for the first time on October 14, 2017 at the Pearl Concert Theater in Las Vegas, Nevada for the Synthesis Live tour. Watch a performance of the song here.
For Evanescence's 2019 tour, the song was included on the setlist and was changed to include more "rock" elements. Watch the performance of this version here.
Amy said the song became "more special" for her after her brother's passing in January 2018.[5]
Versions
Studio Versions
Imperfection
Recording date: February - August 2017
Status: Released
Released On: September 15, 2017 as the first single from Synthesis
Synthesis (Track #16)
Imperfection [Clean Edit]
Recording date: February - August 2017
Status: Released
Released On: "Imperfection" UK Radio Promo
Length: 4:22
Live Versions
Imperfection [Synthesis Live]
Performing period: October 14, 2017 - September 8, 2018
Status: Released
Recording date: November 3, 2017
Released on: Synthesis Live (track #16)
Length: 6:52
Imperfection [Rock Version Live]
Performing period: May 3, 2019 - TBC
Example: Welcome to Rockville, Jacksonville, FL, USA (May 3, 2019)
Lyrics
The more you try to fight it
The more you try to hide it
The more infected rejected you feel alone inside it
You know you can't deny it
The world's a little more fucked up every day

I'm gonna save you from it
Together we'll outrun it
Just don't give into the fear
So many things I would have told you if I knew
that I was never gonna see you again
I wanna lift you up in to the light that you deserve
I wanna take your pain in to myself so you won't hurt

Don't you dare surrender
Don't leave me here without you
Cause I could never replace your perfect imperfection

The way you look us over
Your counterfeit composure
Pushing again and again and sinking lower and lower
The world is on our shoulders
Do you really know the weight of the words you say?

You want a little of it
You just can't let go of it
You've got an ego to feed
Too late to rise above it
Don't look now but the little girl's got a grenade
I'm gonna lift you up in to the light that you deserve
I'm gonna take you down to the real world so you can watch it burn

Don't you dare surrender
Don't leave me here without you
Cause I could never replace your perfect imperfection

We stand undefined
Can't be drawn with a straight line
This will not be our ending
We are alive, we are alive

Don't you dare surrender
Don't leave me here without you
Cause I could never
replace your perfect imperfection
Don't you dare surrender
I'm still right beside you
And I could never replace your perfect imperfection


Video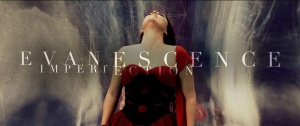 The music video for Imperfection was filmed in Los Angeles, CA on September 15, 2017 and Directed by Paul R. Brown. Some behind-the-scenes teaser videos and photos were posted to Evanescence's Instagram story. Will Hunt and Tim McCord's wife, Dani McCord, posted teasers as well.
In this video, Amy is rained on, each band member goes underwater in the tank and there is a small girl who we know as "Rogue". Amy's inspiration for part of the video came from the anime in which Amy is a fan of (source coming soon).
The music video premiered exclusively on NME on October 19, 2017, before being available on Evanescence's YouTube channel[6].
An exclusive behind-the-scenes video was later published by Revolver.[7]
In an interview with Rolling Stone, Amy and Paul R. Brown explained the story and the visual style they were aiming for:
Amy: The idea for the Imperfection video was about bringing [the Synthesis album art] to life, and capturing the emotion of the lyrics. Our amazing young actress, Rogue Parker, plays the role of me as a girl, my inner-self. The video is meant to give visual to feeling, an internal picture of processing loss, and life, speaking from an adult's perspective to my past self.

Paul Brown: This is such a powerful track that resonates on a truly emotional level. The goal we wanted to achieve in the video was to create a visual translation of the music and reveal the meaning in an abstract way. We all struggle in life and need help to get through everything. In this case we wanted to show that sometimes the strength needed to get through has to come from you.[8]
Commercial Release
Main article: Imperfection Single
The digital single was released on September 15, 2017.
Tracks released with the single include:
Chart Performance
N/A
References
Albums

EPs
Studio
Demo
Live
Compilation

Singles
Promotional singles
Evanescence stuff