Juanita's Restaurant
From The Evanescence Reference
Juanita's Cafe & Bar‎
The building.
Country
United States
State
Arkansas
County
Pulaski County
City
Little Rock
Coordinate
34° 44' 10.46" N, 92° 16' 22.94" W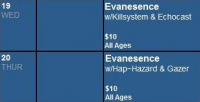 Mexican restaurant/club in Little Rock that featured Evanescence for their "Fallen party" on January 13th, 2003. They performed a breathtaking rendition of A Perfect Circle's Orestes to finish an acoustic set.
Juanita's was also home to two back-to-back sold-out shows featuring Evanescence, 19th and 20th June, 2002. Evanescence was the first band ever booked two nights in a row at Juanita's.
Evanescence also played here earlier, in 2001, as it can been seen in the archive of the pub's official website. [1]
EvanescenceVille has a scan of the ticket for the performace of "Evanescence w/ Killsystem and Echocast"[2] in which you can see a misspelling (it's written Evanesence instead of Evanescence). The cost for the ticket was a small fee of $10! In the archive of the pub's official website you can see the 2002 catalogue with the two 2002 shows[3] and the one in 2003[4].
The restaurant permanently closed on December 20, 2015.[5]
Notes and References
Releated Pages
Links