Mourningside
From The Evanescence Reference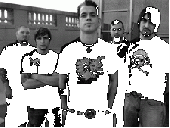 Band that features two former members of Evanescence, drummer Rocky Gray and guitarist John LeCompt. Formed in 2004 in Little Rock Arkansas.
Band Members
Jack Wiese - Lead Vocals
John LeCompt - Guitars and Vocals
Jeff Bowie - Bass
Devin Castle - Guitars
Rocky Gray - Drums
Songs
They released an 8 track EP a couple years ago, containing songs that were rumored rejects, that John and Rocky worked on for Evanescence. John has confirmed that some of the songs they wrote are indeed being used in Machina and Mourningside but hasn't confirmed which songs they were.
The EP includes:
This Goodbye (now being used by Machina)
My Apology
Hypocrisy
Burden of Truth
Let Me Out
Painting the Eyes
Black Days
Tied down.

Links