Ugly Kid Joe
From The Evanescence Reference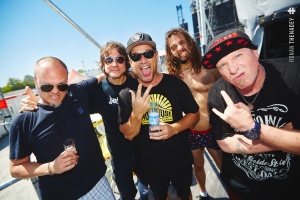 Ugly Kid Joe is an American rock band from Isla Vista, California, formed in 1987. The band's name spoofs that of another band, Pretty Boy Floyd. Ugly Kid Joe's sound includes a range of styles, including rock, hard rock, funk metal and heavy metal.
To date, Ugly Kid Joe have released four full-length albums, two compilation albums and two EPs. Their best selling records are As Ugly as They Wanna Be (1991) and America's Least Wanted (1992), which were both certified double platinum by the RIAA; the former is notable for being the first EP to go platinum. The band broke up in 1997, but announced a reunion in 2010.
The band performed their well known cover of Cat's in the Cradle with Amy Lee at Graspop Metal Meeting 2017 before Evanescence's set. Band member, Dave Fortman, was also the producer for Evanescence's albums, Fallen and The Open Door.
Band Members
Whitfield Crane – lead vocals (1987–1997, 2010–present)
Klaus Eichstadt – guitars, backing vocals (1987–1997, 2010–present)
Cordell Crockett – bass, backing vocals (1991–1997, 2010–present)
Dave Fortman – guitars, backing vocals (1992–1997, 2010–present)
Shannon Larkin – drums, percussion (1994–1997, 2010–present)
Zac Morris – drums, percussion (2012–present)
Discography
America's Least Wanted (1992)
Menace to Sobriety (1995)
Motel California (1996)
Uglier Than They Used ta Be (2015)
References