Veridia
From The Evanescence Reference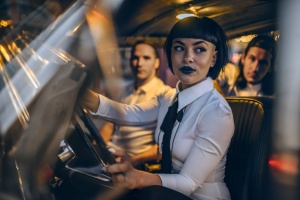 Veridia (also styled as VERIDIA) is an American alternative rock band from Nashville, Tennessee. They formed when Deena Jakoub (vocals) and Brandon Brown (guitar) moved from Dallas to Nashville after the end of their previous band Don't Wake Aislin, in late 2012. Seeking a new start with a fresh sound, they quickly recruited Trevor Hinesley (guitar) and Kyle Levy (drums) to round out the quartet (unnamed at the time) in December 2012. They do not have a bassist as a permanent band member in the band, nor do they have one performing in a live setting.
In early 2013, the group began writing and demoing songs with various co-writers and producers in Nashville while trying to determine what they would name their newly formed group. They eventually settled on Veridia, a combination of the words "veritas" (Latin for "truth") and "veridical" (also meaning "truth"). Of the name, Jakoub says, "Veridia means 'of truth.' It's our creed, to strive for raw honesty in all that we do, being true to ourselves, the ones we love and in our music." To include a form of "truth" as part of their name was inspired by Kahlil Gibran. They call the naming process one of the biggest early challenges the band had overcome. In a Q&A at Pulse Radio headquarters in 2016, guitarist Hinesley stated that the name for the band was almost "Aviara". "We had the dumbest band names in the world," he said. "Don't hire us if you need a band name!"
On February 25, 2014, they released Inseparable EP, their debut studio release, on Word Entertainment. They released their second EP, Pretty Lies, on September 25, 2015.
Their song We Are the Brave is a Billboard U.S. Christian Rock Chart No. 1 single. It was also nominated for 'Rock Song of the Year' at the 2014 Dove Awards and featured during ESPN broadcasts of the NCAA Softball regular season and world series.
The group first opened for Evanescence in Dallas and Los Angeles in 2015, and then again during their Fall 2016 tour. On March 8, 2018, Amy Lee posted a picture on Instagram of herself and Deena working on music together for Veridia's debut album, The Beast You Feed, at Flux Studios in New York City.[1] The song was later confirmed to be a ballad called I'll Never Be Ready.[2]
Veridia held an album listening party in Nashville, Tennessee on October 6, 2018. Amy Lee was present and joined the band on stage to perform on I'll Never Be Ready. Watch a video of the performance here.
Veridia opened for Evanescence again at their European 2019 tour. In 2020, Deena Jakoub has writing credits for Evanescence's song Use My Voice and even appears as one of the guest vocalists.[3]
Band Members
Current
Deena Jakoub - vocals (2012 - present)
Brandon Brown - guitar (2012 - present)
Kyle Levy - drums (2012 - present)
Former
Trevor Hinesley - guitar (2012 - 2016)
Discography
Inseperable EP (2014)
Pretty Lies EP (2015)
Summer Sessions, Vol. I (2016)
The Beast You Feed (2018)
External Links
References