Within Temptation
From The Evanescence Reference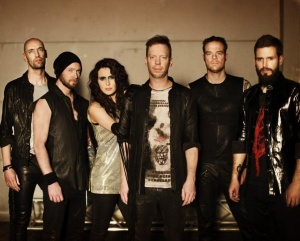 Within Temptation is a symphonic metal band from The Netherlands founded in 1996 by singer Sharon den Adel and guitarist Robert Westerholt.
In an interview, Amy Lee was asked if she heard of them:[1]:
| | | |
| --- | --- | --- |
| | I heard one song of theirs last time I was here, actually. I think they're very interesting, I mean they're very dramatic, I like them. Definitely dramatic would be the word. I don't know, it's kind of off the wall. It's hard in the States, especially for music like ours, because if you're not having fun and like, it seems like if it's not heavy and fun, then a lot of stations don't want to play it because it just brings you down. So it was hard, even for our music, which is so dramatic, you know? So I think they'll probably have similar problems that we have. | |

When Sharon den Adel was interviewed in 2007, she said what it's like to be compared to female fronted rock bands;[2]
| | | |
| --- | --- | --- |
| | In every country we get comparisons. Not only with Evanescence, but with Lacuna Coil when we're in Italy, Nightwish when we're in Finland, and they get compared when they come to our side of Europe. It's inevitable, although I think the bands are all very different. They sound all so different. That's what I like about this genre of music. You can't even call it a genre because the bands are so different from each other. It's sort of like the time you had the grunge period — like Nirvana, Alice In Chains, Pearl Jam, and they said it all sounds the same, but looking back on it they're so different. They're so special in their own way and that's the same thing [here] I think. Although, of course, those are major bands, but it's just a comparison. | |

Sharon met Amy Lee for the first time after the Synthesis Live show in Amsterdam, Netherlands on March 25, 2018.[3]
Within Temptation co-headlined with Evanescence at Riverside Open Air in Aarburg, Switzerland on September 1, 2019. Then on September 17th, both bands announced a co-headlining tour called Worlds Collide that would take place in Europe in March and April 2020. However, it was rescheduled four times to November and December 2022 due to the COVID-19 pandemic.
In an interview with Metal Hammer published on October 10, 2019, both Amy and Sharon spoke about the first time they met each other:
Sharon: "It's quite strange that we didn't meet earlier, but I'm delighted that it did [finally] happen. I was happy to meet her finally after so many years. You don't know what to expect when you've never met someone before, but we had a really beautiful conversation."

Amy: "We started talking about the meaning of life within five minutes. This big, beautiful, vulnerable conversation – at least from my end I felt vulnerable, but I felt safe being vulnerable with you. I don't have a gazillion friends all over the world, I'm more of a one-on-one person. When you meet another woman who's in the rock or heavy music scene, we tend to cling to each other. We are like a little gang. I think about you sometimes and I think about that conversation and, this is going to sound a little bit weird because we have only met a couple of times, but I feel for you."

Sharon: "The same goes for me. I didn't know what to expect and then when I left, I was full of emotion with goosebumps everywhere."[4]

On August 14, 2020, Evanescence's single Use My Voice was released that features guest vocals of Sharon den Adel and several other female vocalists.[5]
At the Worlds Collide show in Dusseldorf, Germany Amy Lee joined the band to duet on The Reckoning.
Amy Lee was featured in a few clips of Within Temptation's new music video for The Fire Within which was released on December 20, 2022 - watch it here.
References