Template:News
From The Evanescence Reference
May 5, 2019
May 3, 2019
April 29, 2019
Evanescence have announced a European tour throughout September that will span 14 dates. Ticket pre-sale will begin tomorrow at 10am local time - use the password EUROPE19. General sale will begin Friday, May 3rd. Visit evanescence.com for more details!
April 9, 2019
Evanescence have announced that they will be playing at Riverside Open Air Aarburg in Switzerland on Sunday, September 1st. Click here for ticket information.
March 25, 2019
Evanescence have announced a limited edition silver vinyl of their debut album, Fallen, that will be released on May 17th exclusively at Target. Click here to pre-order online (delivery to US only).
March 4, 2019
Evanescence posted that they want fans to share memories online using the hashtag #FallenSweet16 in celebration of Fallen turning sixteen. They will choose a few to receive prizes.
February 21, 2019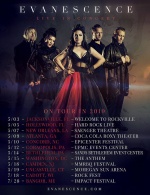 Matt Heafy, the lead singer of heavy metal band Trivium, uploaded his cover of Evanescence's song, Lies, to YouTube. Click here to watch!