Synthesis/it
Synthesis
Pubblicato
8 novembre 2017 (Giappone)
10 novembre 2017 (USA)
Registrato
2017; Dark Horse Recording Studio in Nashville, Tennessee; Ocean Way Recording Studio in Nashville, Tennessee; Spaceway Productions in Fort Worth, Texas
Durata
1:02:18
Etichetta
Evanescence under exclusive license to BMG Rights Management (US) LLC;
RCA Records
Sony
Produttore
Will "Science" Hunt
Evanescence - cronologia

Synthesis è un album remix degli Evanescence pubblicato il 9 novembre 2017. L'album contiene una selezione di tracce dei precedenti album rielaborate in un nuovo stile che è sintesi tra musica orchestrale ed elettronica, e due inediti, Imperfection e Hi-Lo.
Concepimento e registrazioni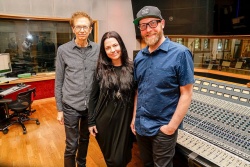 La prime informazioni riguardanti questo progetto vennero rese note in un Q&A su Facebook il 29 febbraio 2016, quando venne chiesto alla band di possibili rielaborazioni di vecchie loro canzoni e a cui venne data una velata conferma[1]. Poche altre rivelazioni vennero centellinate in altre interviste successive[2][3][4]. Tra queste la conferma che il nuovo progetto non riguardava la pubblicazione di un vero e proprio album in studio: "Non riguarda 'ora abbiamo intenzione di pubblicare un nuovo album', che non è imminente, prima c'è qualcos'altro un po' particolare e differente che vi condurrà in un diverso sentiero che vorremmo provare a intraprendere". Fu soltanto il 10 marzo 2017 che Amy caricò un video nella pagina ufficiale di Facebook degli Evanescence, intitolato: "Album announcement: SYNTHESIS", rivelando finalmente il nome del progetto e il suo concept[5]:
Ciao a tutti, volevo approfittare di questo momento per annunciare ufficialmente e spiegare brevemente il nuovo progetto degli Evanescence; Synthesis. L'ho abbiamo chiamato in questo modo perché esso è la sintesi (synthesis), la combinazione, il contrasto, la sinergia tra organico e sintetico, ma anche tra passato e presente. Questo album ha a che fare con la musica orchestrale ed elettronica. Stiamo riprendendo in mano la nostra musica, togliendo le grandi chitarre distorte, la batteria rock e le stiamo rimpiazzando con un'intera orchestra e con un mondo completamente sintetizzato fatto di battiti e suoni.

Abbiamo esaminato l'intero nostro catalogo musicale ed abbiamo selezionato le canzoni che erano state concepite per essere ascoltate in quella maniera. Le stiamo cucendo insieme da capo, non è un remix, non stiamo semplicemente facendo un lavoro di taglia e cuci. Stiamo incominciando da zero; differenti tempi con differenti partiture, diverse intro, outro, interludi[6] e nuovi pezzi. Stiamo mettendo tutto ciò insieme come un unico grande pezzo musicale, un unisco grande brano classico o come una colonna sonora; ed effettivamente, sotto molti aspetti, suona molto come la colonna sonora della mia vita.

In aggiunta alle canzoni degli Evanescence che già conoscete, faranno parte del progetto altre due composizione originali completamente nuove. Stiamo collaborando con il leggendario David Campbell che ha arrangiato tutti le parti degli archi nei nostri tre album precedenti. Questa volta si è seduto al tavolo con l'intento di contribuire in maniera molto più orchestrale; legni, ottoni, archi e arpa e tutti l'intero apparato, è veramente una cosa incredibile!

Okay, l'ultima cosa che voglio condividere con voi ora è che proprio a come stiamo pensando a come eseguite questo in studio per farne un album, stiamo anche pensando a come portarlo live, perché questo autunno abbiamo intenzione di andare in tour con un intera orchestra.

Quindi, tenetevi pronti ad indossare i vostri abiti più eleganti e ad avere un'esperienza completamente nuova degli Evanescence! Sia l'album che il tour sono programmati per questo autunno. Continuate a seguirci per sapere le date.

Il 23 maggio 2017, delle immagini apparse sul profilo Instagram mostrano Amy Lee recording piano al Dark Horse Recording Studio a Nashville, Tennessee. Le foto, in seguito eliminate, vennero pubblicate dal cinefotografo Jeff Molyneaux che stava in quel periodo riprendendo il behind-the-scenes delle registrazioni dell'album[7]. La parte all'orchestra fu registrata più tardi lo stesso mese agli Ocean Way Recording Studios, anche essi locati a Nashville. Le registrazioni ebbero un periodo di pausa non appena gli Evanescence incominciarono un breve tour in Europa. Nell'agosto 2017, la band si recò di nuovo in America verso lo studio Will B. Hunt, a Fort Worth, Texas, per registrare la loro rispettive parti e finire l'album.
Pubblicazione e promozione
From the Inside (The Creation of Synthesis)
Per approfondire, vedi la pagina From the Inside (The Creation of Synthesis)
From the Inside (The Creation of Synthesis) o anche Inside Synthesis è un documentario sul processo di creazione e registrazione di Synthesis. Questo contiene interviste di ciascun membro della band, del produttore Will "Science" Hunt e del direttore d'orchestra David Campbell. Venne pubblicato inizialmente sul web diviso in cinque episodi. La versione completa della durata di 16 minuti, con più di sei minuti di materiale inedito, è contenuto nel DVD della versione deluxe e box set di Synthesis.
Singoli
Bring Me to Life (Synthesis) fu il promo ad essere pubblicato come singolo promozionale, l'8 agosto 2017, non appena i biglietti per il tour autunnale del 2017 in Nord America furono resi disponibili. Il suo download veniva reso disponibile non appena venivano acquistati i biglietti del concerto. Imperfection fu pubblicato come primo singolo commerciale il 15 settembre 2017. Il suo ascolto venne reso disponibile con un'anteprima di due ore attraverso un "listening party" sulla pagina ufficiale di Facebook della band. Lacrymosa (Synthesis) fu pubblicato come secondo singolo promozionale il 27 ottobre 2017. Hi-Lo fu pubblicata come secondo e ultimo singolo commerciale l'8 giugno 2018 poco prima del tour con Lindsey Stirling.
Tour
Per approfondire, vedi la pagina Synthesis Live Tour e Synthesis Live Book
Il Synthesis Live è come gli Evanescence chiamano il tour di Synthesis. Il tour mondiale, accompagnato da un'intera orchestra, è incominciato il 14 ottobre 2017 e si è concluso 8 settembre 2018. Sono state eseguite dal vivo tutte le canzoni del album oltre che altre tracce eseguite come bis e una selezione di tracce orchestrali eseguite all'inizio di ogni concerto cambiate ad ogni parte del tour.
L'8 marzo 2018, Lindsey Stirling caricò un piccolo video intitolato "Dreams coming true, Summer 2018". Nel video scherzoso Lindsey si presentava come una "fan casuale"[8] degli Evanescence. Tuttavia non appena la videocamera si allontana e si allarga il campo si fa intendere che Lindsey è una fan tutt'altro che casuale, mostrando un'intera parete ricoperta dal merchandising della band e lo stesso vestiario in tema della cantante. Quando il telefono squilla con la suoneria personalizzata di Bring Me to Life appare un messaggio da parte Amy Lee con scritto "Che fai questa estate?"; la scena viene improvvisamente tagliata e appare il logo della band Evanescence con la scritta "Estate 2018"[9]. Il giorno seguente, gli Evanescence confermarono la notizia che avrebbero intrapreso la prossima parte del tour negli USA e in Canada insieme Lindsey. La prevendita dei biglietti venne resa disponibile il 7 marzo, mentre la vendita vera e propria venne resa disponibile qualche giorno dopo, il 9 marzo[10].
Evanescence's performances of Hi-Lo during the Summer 2018 tour included Lindsey playing her violin solo live. When Lindsey played her song, Shatter Me, Amy Lee would sing the vocals. During the first half of the co-headlining tour, when Lindsey headlined, Amy and Lindsey would perform a cover of Young and Beautiful by Lana Del Rey to finish off the night. And for the rest of the tour, when Evanescence headlined, the band and Lindsey would perform a medley of Palladio, No More Tears by Ozzy Osbvourne and Alive by Sia.
Behind The Scenes
Nel settembre 2018 fu pubblicato in due episodi, sul canale ufficiale di Youtube della band, un dietro le scene del tour di Synthesis[11][12].
Synthesis Live DVD/Blu-ray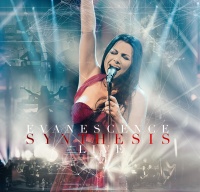 Per approfondire, vedi la pagina Synthesis Live
Secondo DVD live degli Evanescence pubblicato il 12 ottobre 2018. Le riprese sono state fatte da Paul R. Brown durante il concerto della band al Foxwoods Resort Casino Grand Theater a Mashantucket (Connecticut) il 3 novembre 2017. Il mixaggio è a opera di Damian Taylor.
L'esistenza di questo prodotto discografico fu resa nota per la prima volta durante l'incontro dei fan con la band dopo il concerto stesso. Gli ospiti furono informati che lo show era stato registrato per un per poi essere pubblicato in un live DVD. Successivamente venne data conferma pubblica di ciò durante un'intervista francese con La Grosse, nella quale Amy confermò tutto quanto[13]. Il DVD fu infine ufficialmente annunciato l'8 agosto 2018 insieme al suo pre-order, per poi essere pubblicato il 12 ottobre 2018.
Le due canzoni di apertura, Never Go Back e Lacrymosa, furono trasmesse in diretta sulla pagina ufficiale di Facebook degli Evanescence. Il fotografo ufficiale del servizio fotografico Synthesis nonché regista del video dei due singoli, Paul Brown, postò su Instagram diverse immagini del dietro le quinte delle registrazioni. Il DVD è disponibile in diversi formati: DVD, DVD/CD, Blu-ray, Blu-ray/CD e download.
Tracce
Pulled from New Zealand iTunes [14]
No.
Title
Writer(s)
Originally From
Length
1.
"Overture"  
A. Lee
 
0:57
2.
"Never Go Back"  
A. Lee, T. Balsamo, T. McCord, W. Hunt
Evanescence
4:50
3.
"Hi-lo" (feat. Lindsey Stirling)
A. Lee, W. B. Hunt
 
5:07
4.
"My Heart Is Broken"  
A. Lee, T. Balsamo, T. McCord, Z. Williams
Evanescence
4:34
5.
"Lacrymosa"  
A. Lee, T. Balsamo
The Open Door
3:42
6.
"End of the Dream"  
A. Lee, T. Balsamo, T. McCord, W. Hunt, W. B. Hunt
Evanescence
4:54
7.
"Bring Me to Life"  
A. Lee, B. Moody, D. Hodges
Fallen
4:18
8.
"Unraveling"

(Interlude)

A. Lee
 
1:40
9.
"Imaginary"  
A. Lee, B. Moody, D. Hodges
Fallen
4:03
10.
"Secret Door"  
A. Lee, W. B. Hunt
Evanescence
3:48
11.
"Lithium"  
A. Lee
The Open Door
4:05
12.
"Lost In Paradise"  
A. Lee
Evanescence
4:43
13.
"Your Star"  
A. Lee, T. Balsamo
The Open Door
4:38
14.
"My Immortal"  
A. Lee, B. Moody, D. Hodges
Fallen
4:25
15.
"The In-Between"

(Piano Solo)

A. Lee
 
2:11
16.
"Imperfection"

(Explicit)

A. Lee, W. B. Hunt, T McCord, J. Majura, T. McLawhorn, W. Hunt
 
4:22

Total length:

62:18
International deluxe edition bonus DVD
No.
Title
Note
Length
1.
"From the Inside: The Creation of Synthesis"  
 
16:53
2.
"Synthesis"

(instrumental album)

 
62:24
3.
"Synthesis"

(5.1 surround mix)

 
62:24
4.
"Photo gallery"  
 
3:06
5.
"Synthesis scores"  
 
-

Total length:

144:07
Accoglienza della critica
Synthesis received generally positive reviews from music critics. At Metacritic, which assigns a normalised rating out of 100 to reviews from mainstream critics, the album has an average score of 69 based on 4 reviews, indicating "generally favorable reviews".[15]
Loudwire described Amy's performance on the record as "outstanding" and that "her powerful pipes [are] never overshadowed by the orchestra". They also said the production on the album is "excellent" and "it's grandiose and bombastic in parts, quiet and subdued in others, and working with so many instruments when recording and mixing an album is tricky".[16]
Rolling Stone gave it 3.5 out of 5 stars and gave a brief review saying that it's "an act of artistic justice" and that it "amplifies the real Amy Lee, the way she was always meant to be heard".[17]
Metal Hammer gave it 4 out of 5 stars and said that since they only have three studio albums, going back and revisiting their best-loved songs is an "ambitious and unexpected move". For the song Bring Me to Life, they said that "stripping away all the rock elements" and "barely there ambient electronics" gave it a "completely different atmosphere" and that the concept of the album is "like a window into an alternate-universe Evanescence".[18]
Crediti
Credits adapted from the liner notes of Synthesis.[19]
Additional personnel

P. R. Brown – artwork, design, fotografia
David Campbell – direttore d'orchestra
Will B. Hunt – ingegneria del suono, produzione, programmazione, sintetizzazione
Emily Lazar – masterizzazione
Ethan Mates – ingegneria del suono (Hi-Lo)
Lindsey Stirling – violino (Hi-Lo)
Damian Taylor – mixaggio
Note
Voci correlate
Collegamenti esterni
Albums

EP
Studio
Demo
Live
Raccolte
Remix
Cofanetti

Singoli
Singoli promozionali
Evanescence stuff