Emma Anzai
From The Evanescence Reference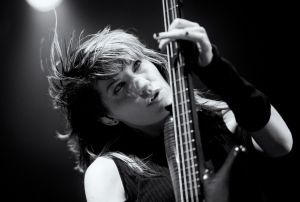 Emma Anzai is an Australian bass player. She co-founded Australian rock band Sick Puppies, and is Evanescence's bassist since May 2022.
She was announced as Evanescence's new bassist on May 23, 2022, after the band parted ways with rhythm guitarist Jen Majura and the band's longtime bassist Tim McCord switched to guitar.[1] Anzai works with both Evanescence and Sick Puppies. She and Amy Lee have known each other since the early days of Evanescence.
She made her live debut in the band in their European Summer tour in Athens, Greece on June 5, 2022.
Discography
Sick Puppies
Welcome to the Real World (2001)
Dressed Up as Life (2007)
Tri-Polar (2009)
Connect (2013)
Fury (2016)
External Links
References
Albums

EPs
Studio
Demo
Live
Compilation

Singles
Promotional singles
Evanescence stuff