Singles
From The Evanescence Reference
In music, a single is a short recording of one or more separate tracks. This can be released for sale to the public in a variety of different formats including CD, DVD, Cassette, Vinyl, VHS and Digital Downloads, amongst others. Single releases are often made simultaneously in more than one format, as a single track download, and on CD or vinyl. Records with more than two A-sides are usually not considered singles, but EPs.
Although non-album singles are sometimes released, the lead tracks (and sometimes B-sides) of singles usually come from an album (either one already released or one about to be) and the release of the single is partly to promote sales of the album, and to ensure radio playlisting. CD singles often feature "radio edit" or "single edit" versions of the main song, which differ from the original recording in being edited to an attractive length for radio play, having expletives censored (often by re-recording with different lyrics), or both.
A typical number of singles to be released from an album is two to four—more is considered exceptional. However, since an artist's most popular songs are often singles later albums including their earlier works may have many.
Evanescence has commercially released a total of 26 singles. Those being:
1this was released as radio-only single in Spain
2this was released as a radio-only single in Europe and South America
3this was released as a radio only single in South America
4this was available for purchase and digital download on iTunes Store without any physical CD
5these were released as radio-only singles in the United States
It is worth noting that Evanescence received airplay before the release of Fallen from the songs Lies, Understanding, Even in Death, Whisper, Goodnight and Give Unto Me. Singles were probably not produced for these songs.
Amy Lee Singles
Amy Lee as a solo artist also has singles and collectible discs, promoting her work and songs as a solo artist. These all have been proven to be very rare and valuable as not very many copies of each promo were made, making them highly sought after. So far Amy Lee has 3 singles that come with promo discs:
Collecting Singles
It can be a costly hobby to collect Evanescence singles as a complete collection may cost thousands of dollars. Nobody is known to possess a "complete" singles collection, though there are a few who come close. There are roughly 200 known separate releases and countless others unknown.
Noteworthy Collectibles
There are obviously many rare singles, promos or albums that were either produced in limited quantities or contain exclusive artworks or tracks not found elsewhere (e.g. the Spanish release of Going Under). Items considered especially rare:
Bring Me to Life Cassette
Bring Me to Life US Radio Single (Reissued)
Bring Me to Life + Going Under WUJC DVD
Going Under Spanish Single
My Immortal 3-track WUJC US Radio Promo
My Immortal Dutch Press Kit
Anywhere But Home Turkish Pressing Cassette
The Open Door Japanese Cassette Promo
Weight of the World Colombian Promo
Sweet Sacrifice US Radio Single
All Good Enough releases
Korean releases of Bring Me to Life, My Immortal and Going Under
VHS releases of Going Under, My Immortal and Everybody's Fool
Dutch and Irish versions of Lithium
Lockdown US Radio Promo
Imperfection UK Radio Promo
All old medias with pre-Fallen singles such as Whisper, Even in Death, Goodnight and Understanding
The Imaginary Single
This single is undoubtedly one of the rarest singles with between 50-200 copies produced for distribution among Spanish radio stations. See: Imaginary Single
Missing
Released in Europe, Isreal, Brazil and Australia when Anywhere But Home reached stores. Sightings of the physical singles are rare nowadays. See: Missing Single
SAMPCS Radio Promos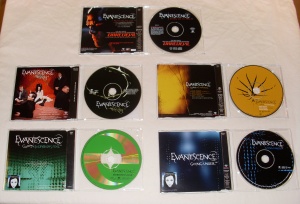 SAMPCS being the first part of the catalog number
The Fallen era radio promotional discs released in Europe under the Epic (Sony International) label. One exists for each single released off of Fallen (Bring Me to Life, Going Under, My Immortal, Everybody's Fool & Missing). The Bring Me to Life SAMPCS single notably features a drastically different cover image and Daredevil Soundtrack information. Everybody's Fool and Going Under are fairly easy to find for sale online, the others, are much harder especially Missing. The Call Me When You're Sober European radio promo is not included in this category because it was released by a different label (Sony BMG). Several fans have managed to collect all the SAMPCS singles.
WUJC Radio Promos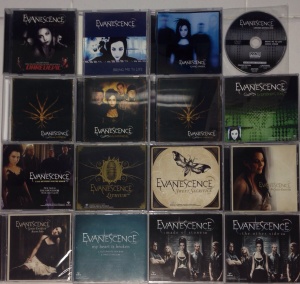 WUJC being the first part of the catalog number
Discs released directly from Wind-Up Records to United States radio stations. These discs are VERY rare and are often near impossible to find. They span the band's commercial career from Bring Me to Life to The Other Side.
These discs often include alternate single artwork and are always in full-sized Jewel cases (as opposed to a standard J-card single case). Earlier singles such as Bring Me To Life and My Immortal are especially rare, but more recently, the Good Enough and Sweet Sacrifice WUJC singles are known to be quite elusive. Besides the CD singles, there has been so far only one WUJC DVD single containing the videos from Bring Me to Life and Going Under. There are several collectors close to owning every WUJC single; however, no one is really known to have all of them yet.
There are, so far, 17: 3 for BMTL, 1 for GU, 1 BMTL/GU DVD, 3 for My Immortal and 1 for Everybody's Fool, Call Me When You're Sober, Lithium and SS. Also, there are 2 for GE and 1 for My Heart is Broken, Made of Stone, and The Other Side.
Albums

EPs
Studio
Demo
Live
Compilation

Singles
Promotional singles
Evanescence stuff