Carnival of Madness Tour 2012
From The Evanescence Reference
Carnival of Madness Tour 2012 está disponible en español. Ver el artículo

Το άρθρο Carnival of Madness Tour 2012 είναι διαθέσιμο στα ελληνικά. Δείτε το άρθρο

Carnival of Madness Tour 2012 è disponibile in italiano. Vedi l'articolo

Carnival of Madness Tour 2012 está disponível em português. Ver o artigo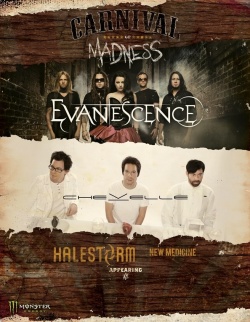 Carnival of Madness is an annual hard rock/alternative rock tour founded in 2010. The festival has a Carnival theme and a family friendly atmosphere. Artist and band signings, give away's, circus performers, fire breathers, and more are also part of the show's activities.
Evanescence announced on May 18, 2012 that they would be taking part in 2012's Carnival of Madness tour in the United States, along with Chevelle, Halestorm, New Medicine and Cavo.[1]
Amy Lee said:
| | | |
| --- | --- | --- |
| | We're really looking forward to the Carnival of Madness tour this summer. We love Chevelle and haven't hit the road together in years, and I'm really stoked to finally be playing some shows with Halestorm. Naturally, I'm a fan of strong women in music and Lzzy's voice is spectacular.[2] | |

Ticket pre-sales began on May 22nd, with radio pre-sale tickets available first, Carnival of Madness fan club pre-sale on May 23rd, EvClub pre-sale on May 24th[3] and general public sale on June 1st.
The tour began on July 31st in Springfield, Illinois and spanned 24 dates before concluding on September 5th in Evansville, Indiana. Evanescence's set at the Toyota Park in Chicago, Illinois on August 26th was cancelled due to severe rain.
Setlist
Below are the list of songs that were included on the tour. They premiered Disappear live for the first time at the first date of the tour and played it throughout.
01. What You Want
02. Going Under
03. The Other Side
04. Weight of the World
05. Made of Stone
06. Lithium
07. Lost In Paradise
08. My Heart is Broken
09. Sick
10. The Change
11. Whisper
12. Your Star
13. Call Me When You're Sober
14. Imaginary
15. Never Go Back
16. Bring Me to Life
17. Disappear
18. My Immortal

Shows
| Date | Location | City, State | Line-Up | Notes |
| --- | --- | --- | --- | --- |
| Tuesday, July 31, 2012 | Prairie Capital Convention Center | Springfield, IL, USA | Evanescence + Various Artists | Premiere of Disappear. |
| Wednesday, August 1, 2012 | LC Pavilion | Columbus, OH, USA | Evanescence + Various Artists | |
| Friday, August 3, 2012 | House of Blues | Atlantic City, NJ, USA | Evanescence + Various Artists | |
| Saturday, August 4, 2012 | Harrah's Chester Downs | Chester, PA, USA | Evanescence + Various Artists | |
| Monday, August 6, 2012 | Bank of America Pavilion | Boston, MA, USA | Evanescence + Various Artists | |
| Tuesday, August 7, 2012 | Pier Six | Baltimore, MD, USA | Evanescence + Various Artists | |
| Wednesday, August 8, 2012 | Verizon Wireless Amphitheatre | Charlotte, NC, USA | Evanescence + Various Artists | |
| Friday, August 10, 2012 | Aaron's Amphitheatre at Lakewood | Atlanta, GA, USA | Evanescence + Various Artists | |
| Saturday, August 11, 2012 | Jones Park | Gulfport, MS, USA | Evanescence + Various Artists | |
| Monday, August 13, 2012 | Bell County Expo | Belton, TX, USA | Evanescence + Various Artists | |
| Tuesday, August 14, 2012 | Laredo Energy Center | Laredo, TX, USA | Evanescence + Various Artists | |
| Wednesday, August 15, 2012 | Midland Horseshoe Arena | Midland, TX, USA | Evanescence + Various Artists | |
| Friday, August 17, 2012 | Lonestar Pavilion | Lubbock, TX, USA | Evanescence + Various Artists | |
| Saturday, August 18, 2012 | Don Haskins Center | El Paso, TX, USA | Evanescence + Various Artists | Amy Lee joined Halestorm on stage to duet on Break In. |
| Monday, August 20, 2012 | Tyson Events Center | Sioux City, IW, USA | Evanescence + Various Artists | |
| Tuesday, August 21, 2012 | Eagles Ballroom | Milwaukee, WI, USA | Evanescence + Various Artists | |
| Thursday, August 23, 2012 | Rock the Rapids | Grand Rapids, MI, USA | Evanescence + Various Artists | |
| Friday, August 24, 2012 | DTE Music Theatre | Detroit, MI, USA | Evanescence + Various Artists | |
| Sunday, August 26, 2012 | Toyota Park | Chicago, IL, USA | Evanescence + Various Artists | Evanescence's set was cancelled due to severe weather. |
| Tuesday, August 28, 2012 | Stage AE | Pittsburgh, PA, USA | Evanescence + Various Artists | |
| Wednesday, August 29, 2012 | PNC Amphiteatre | Holmdel, NJ, USA | Evanescence + Various Artists | |
| Thursday, August 30, 2012 | Mohegan Sun | Uncasville, CT, USA | Evanescence + Various Artists | |
| Saturday, September 1, 2012 | Tanglewood Music Center | Lenox, MA, USA | Evanescence + Various Artists | |
| Sunday, September 2, 2012 | WEDG Edgefest | Buffalo, NY, USA | Evanescence + Various Artists | |
References
Albums

EPs
Studio
Demo
Live
Compilation

Singles
Promotional singles
Evanescence stuff