Nick Raskulinecz
From The Evanescence Reference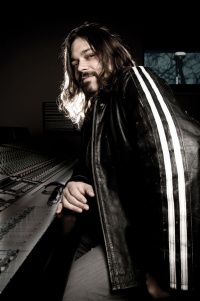 Nick Raskulinecz (born February 4, 1970) is an American record producer. He's worked with many rock musicians and bands such as Korn, Foo Fighters, Trivium, Deftones and Alice in Chains. He owns a studio called Rock Falcon Studio in Nashville, TN.
He worked with Evanescence in 2011 as the Producer for their third studio album, after the band parted ways with Steve Lillywhite in 2010.[1]
In late 2019 he mixed Evanescence's cover of Fleetwood Mac's The Chain for Xbox's Gears 5 video game.[2]
The band worked with Nick again when they went into the studio to record the first four songs for their fifth studio album, The Bitter Truth.[3] He was originally going to work on four songs as the band planned to work with different producers, but ended up handling the production of the rest of the album due to the COVID-19 pandemic.[4] He co-wrote the album's fifth single, Better Without You, and mixed the album.[5]
He produced Amy Lee's duet with Lzzy Hale on Halestorm's Break In.[6]
External links
References
↑ Goodman, William (April 13, 2011). "Amy Lee Talks Evanescence's Comeback LP". Spin. https://www.spin.com/2011/04/amy-lee-talks-evanescences-comeback-lp/.
↑ "Amy Lee Says New Evanescence Music Out By April Tour". Hidden Jams. February 28, 2020. https://hiddenjams.com/2020/02/28/amy-lee-evanescence-music-april-tour/.
↑ "EVANESCENCE's New Album, 'The Bitter Truth', Will Arrive This Year, Says AMY LEE". Blabbermouth.net. May 8, 2020. https://www.blabbermouth.net/news/evanescences-new-album-the-bitter-truth-will-arrive-this-year-says-amy-lee/.
↑ "Amy Lee on the Future of Evanescence". YouTube. August 25, 2020. https://www.youtube.com/watch?v=p2FAJd6r-ks.
↑ The Bitter Truth (2021), liner notes.
↑ Hale, Lzzy (May 8, 2020). "The studio recorded version of #BreakIn will be unleashed to the world in August!". Instagram. https://www.instagram.com/p/B_8QITMhP_F/.
Albums

EPs
Studio
Demo
Live
Compilation

Singles
Promotional singles
Evanescence stuff