Nick Raskulinecz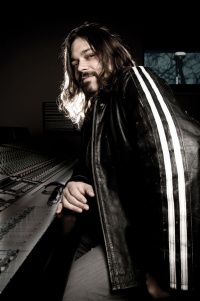 Nick Raskulinecz (born February 4, 1970) is an American record producer. He's worked with many rock musicians and bands such as Korn, Foo Fighters, Trivium, Deftones and Alice in Chains. He owns a studio called Rock Falcon Studio in Nashville, TN.
He worked with Evanescence in 2011 as the Producer for their third studio album, after the band parted ways with Steve Lillywhite in 2010.[1]
The band worked with Nick again when they went into the studio to record the first four songs for their fifth album, The Bitter Truth.[2]
He produced Amy Lee's duet with Lzzy Hale on Halestorm's Break In.[3]
External links
References
Albums

EPs
Studio
Demo
Live
Compilation

Singles
Promotional singles
Evanescence stuff