Oliver Goodwill
From The Evanescence Reference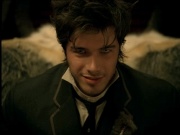 The Big Bad Wolfie (Ev Video)
Famous for his role as the 'Big Bad Wolf' in the Evanescence video for Call Me When You're Sober. He published a thread on EvBoard.com under the nickname realwolf describing his experiences while making the CMWYS video entitled MY "SOBER" EXPERIENCE, by WOLFIE. Wolfie is the nickname by which he grew to be known with most of his fans at EvBoard.com, where it is now even possible to join the Wolfie Pack.


Oli the Entertainer (Other)
Oliver originally came to Los Angeles from England hoping to study music and play drums, the instrument he had been playing since the age of 7, in a band. Quickly, he met people in the entertainment business and fell into the film-making industry, acting and working on a number of independent and student films. He has scored a couple of short films, including 'Left for Shadows' and 'Spades.' Other than having a role in the Evanescence CMWYS video, Oliver apparently has acted in a short film with the title 'Courting White.' And just to round him out as a guy who seems to have done everything, you might also like to know that just recently, Goodwill wrote and directed his first short film, which, according to him, is "about a girl who is [dealing] with her life timeline being out of sync, kinda like a twilight zone episode." Source. More information can be found on his website, OliGoodwill.com.


Projects
Actor
Richard III (2006) - York Subordinate
"Prescriptions" (2006)/TV Series - Wilbur
Courting White - Unknown
Call Me When You're Sober (2006)/Music Video - Wolfie


Other
"Prescriptions" (2006)/TV Series - Second Assistant Director
Selling in the 21st Century (2005)/Documentary - Self
Left for Shadows - Score
Spades - Score
(Unknown Short) - Author, Director


Links
Albums

EPs
Studio
Demo
Live
Compilation

Singles
Promotional singles
Evanescence stuff