P.O.D.
From The Evanescence Reference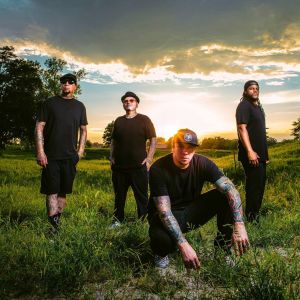 P.O.D., an initialism for Payable on Death, is an American Christian nu metal band formed in 1992 and based in San Diego, California. The band's line-up consists of drummer and rhythm guitarist Wuv Bernardo, vocalist Sonny Sandoval, bassist Traa Daniels, and lead guitarist Marcos Curiel. They have sold over 12 million records worldwide.
Over the course of their career, the band has received three Grammy Award nominations, contributed to numerous motion picture soundtracks and toured internationally. With their third studio album, The Fundamental Elements of Southtown, they achieved their initial mainstream success; the album was certified platinum by the RIAA in 2000. Their following studio album, Satellite, continued the band's success with the singles, "Alive" and "Youth of the Nation", pushing it to go triple platinum.
Former Evanescence band member, David Hodges, mentioned in a 2018 interview that one of the musicians who were approached to feature on Bring Me to Life to sing the rap parts was Sonny, as well as several other musicians.[1] Ultimately, Paul McCoy from 12 Stones did the vocals.
During Evanescence's set on September 13, 2022 in Spokane, Washington for the Korn x Evanescence tour, Sonny joined the band on stage to sing the rap parts to Bring Me to Life during the latter half of the song.[2] You can watch a clip of the duet here.
Discography
Snuff the Punk (1994)
Brown (1996)
The Fundamental Elements of Southtown (1999)
Satellite (2001)
Payable on Death (2003)
Testify (2006)
When Angels & Serpents Dance (2008)
Murdered Love (2012)
SoCal Sessions (2014)
The Awakening (2015)
Circles (2018)
Band Members
Sonny Sandoval − lead vocals (1992–present)
Traa Daniels − bass, backing vocals (1993–present)
Marcos Curiel − lead guitar, programming, backing vocals (1992–2003, 2006–present)
Wuv Bernardo − drums, rhythm guitar, backing vocals (1992–present)
References
Albums

EPs
Studio
Demo
Live
Compilation

Singles
Promotional singles
Evanescence stuff