The Making of Fallen
From The Evanescence Reference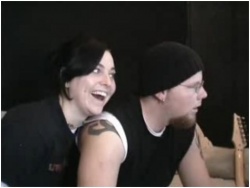 Filmed by Amy Lee and Ben Moody, an unreleased 53 minute video on David, Amy, Ben, and Josh Freese recording Fallen in Los Angeles, California. They work on many songs including Missing, Farther Away, Going Under, Bring Me to Life, Everybody's Fool, Whisper, and Imaginary. Josh Freese plays drums throughout the session.
Amy's husband, Josh Hartzler, also makes a brief appearance in the video (they were not dating at the time).
The full video can be watched on Dailymotion.com or Google Drive.
Albums

EPs
Studio
Demo
Live
Compilation

Singles
Promotional singles
Evanescence stuff