Warren Riker
From The Evanescence Reference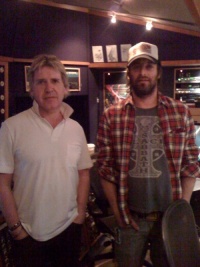 Warren Riker is a producer, sound engineer, mixer, musician and composer.
With 3 Grammys (The Fugees, Lauryn Hill and Santana) under his belt, Riker credits over 40 million albums sold containing his work as mixer, engineer and producer. His love for versatile music makes it impossible to put him in one category, but these days he likes to produce rock, do mixes and remixes for pop and urban artists and also finds time to program and co-write songs for film, TV and games.[1]
In 2010, Riker entered the studio with Steve Lillywhite to work on Evanescence's third studio album,[2] but the sessions he worked on were scrapped by Wind-up Records.[3]
Notes and References
Albums

EPs
Studio
Demo
Live
Compilation

Singles
Promotional singles
Evanescence stuff