Epica
From The Evanescence Reference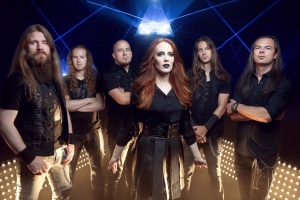 Epica is a Dutch symphonic metal band founded by guitarist and vocalist Mark Jansen in 2002 after his departure from After Forever.
In a 2007 interview, co-vocalist Simone said she doesn't want Epica to be compared to Evanescence because they are different musically:[1]
| | | |
| --- | --- | --- |
| | I would not like to be compared to Evanescence because that is a rock group and is very commercial, and I think Epica still has more metal in it than rock music. Plus the fact that we have some really aggressive male vocals, it's just more complicated and Evanescence is more like pop rock band and Epica really belongs to the metal scene. | |

Simone posted on her social media accounts that she met Amy Lee at Rockwave Festival in Greece on July 2, 2017, where Evanescence and Epica were performing.
Simone posted:[2]
| | | |
| --- | --- | --- |
| | We have more in common than we both thought. Both of us have boys, love food, glitter and Nightmare Before Christmas. That is just the short list. It was so nice that our paths have finally crossed and hopefully it will happen again soon. | |

Amy posted:[3]
| | | |
| --- | --- | --- |
| | Finally met the beautiful @smoonstyle at the show tonight! It's about time! Shared kid pics and glitter. Safe travels Simone, see you down on the road @epicaofficial. | |

Amy and Simone met again when Simone attended Evanescence's Synthesis Live show in Stuttgart, Germany on March 22, 2018.[4]
References