Epica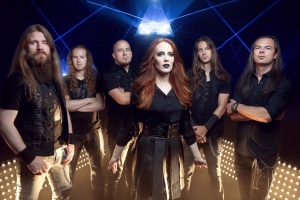 Epica is a Dutch symphonic metal band, founded by guitarist and vocalist Mark Jansen after his departure from After Forever.
Born as a symphonic metal band with gothic tendencies, later Epica have incorporated into their sound strong death metal influences. Starting from the third album, even progressive metal attitudes have become evident. In addition, the band often uses thrash metal and groove metal riffs, black metal passages (mostly in the drum technique), power metal moments and references to Arabic music. Some songs also have electronic shades, djent transitions and folk metal melodies derived from middle eastern, Chinese and Celtic traditions. Epica is also known for the attention to the vocal lines that, in contrast to the heavy context, weave very catchy, easy to hold, sophisticated and emotional melodies. In the band's sound the use of female vocals and male growls, performed by Simone Simons and Mark Jansen respectively, is fundamental. They primarily write their own lyrics, which often deal with philosophical, psychological, spiritual, moral, scientific, environmental, socio-political, global and topical and personal themes. Epica is also known for their wide use of orchestra and opera choirs.
In 2003, Epica's debut album The Phantom Agony was released through Transmission Records. Consign to Oblivion followed in 2005, and debuted at No. 12 in the Dutch charts. They moved labels to Nuclear Blast following Transmission's bankruptcy, and in 2007, released their third studio album The Divine Conspiracy, which charted at No. 9 in the Netherlands. 2009's Design Your Universe was met with yet greater success, debuting at No. 8 in the Dutch Albums Chart, and charting across Europe, also garnering much critical acclaim. Epica's fifth studio album Requiem for the Indifferent was released in 2012. Well received by critics, it achieved international success, entering the US's Billboard 200 at No. 104, and Japan's Oricon Albums Chart at No. 172.
At the beginning of May 2014 the band released their sixth album, The Quantum Enigma, which was a huge international success, debuting on No. 110 on US Billboard 200 and peaking at No. 4 in Epica's homeland Netherlands. In June 2015 Epica was awarded the Music Export Awards, which is given to the Dutch act with the most international success in the past year. Their seventh album, The Holographic Principle, was released in September 2016.
When Simone was interviewed by Radio Metal France on 14th November 2007, she said she doesn't want Epica to be compared to Evanescence as they are different musically:[1]
| | | |
| --- | --- | --- |
| | I would not like to be compared to Evanescence because that is a rock group and is very commercial, and I think Epica still has more metal in it than rock music. Plus the fact that we have some really aggressive male vocals, it's just more complicated and Evanescence is more like pop rock band and Epica really belongs to the metal scene. | |

Simone posted on her social media accounts that she met Amy Lee at Rockwave Festival in Greece on July 2, 2017. Both Epica and Evanescence were performing at the festival.
Simone posted:[2]
| | | |
| --- | --- | --- |
| | We have more in common than we both thought. Both of us have boys, love food, glitter and Nightmare Before Christmas. That is just the short list. It was so nice that our paths have finally crossed and hopefully it will happen again soon. | |

Amy posted:[3]
| | | |
| --- | --- | --- |
| | Finally met the beautiful @smoonstyle at the show tonight! It's about time! Shared kid pics and glitter. Safe travels Simone, see you down on the road @epicaofficial. | |

Amy and Simone met again when Simone attended Evanescence's Synthesis Live show in Stuttgart, Germany on March 22, 2018.[4] In December 2018, Jen Majura had a photoshoot directed by Simone.
Band Members
Current
Simone Simons - lead vocals (2002-present)
Mark Jansen – rhythm guitar, growled vocals (2002–present)
Coen Janssen – keyboards, synthesizer, piano (2002–present)
Ariën van Weesenbeek – drums, spoken vocals (2007–present; session member: 2006–2007)
Isaac Delahaye – lead guitar, backing vocals (2009–present)
Rob van der Loo – bass (2012–present)
Former
Yves Huts – bass (2002–2012; guested in 2013)
Ad Sluijter – lead guitar (2002–2008; guested in 2013)
Jeroen Simons – drums (2002–2006; guested in 2013)
Helena Iren Michaelsen – lead vocals (2002)
Discography
Studio Albums
The Phantom Agony (2003)
Consign to Oblivion (2005)
The Divine Conspiracy (2007)
Design Your Universe (2009)
Requiem for the Indifferent (2012)
The Quantum Enigma (2014)
The Holographic Principle (2016)
EPs
The Solace System (2017)
Epica vs Attack on Titan Songs (2018)
Live
We Will Take You with Us (2004)
The Classical Conspiracy (2009)
Retrospect (2013)
Soundtracks
The Score – An Epic Journey (2005)
External Links
References