Graspop Metal Meeting

Graspop Metal Meeting is a Belgian heavy metal festival held in Dessel each year since 1996. Despite the small size of the festival grounds (upholding a perimeter of only ~4 km) the festival draws a large number of international spectators, with a total of 152,000 visitors in the course of the 2015 edition.
Graspop Metal Meeting 2017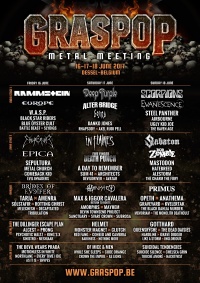 Evanescence performed at the festival on June 18, 2017 on Main Stage 1 before the headliner of the day, Scorpions. Before their set, Amy Lee and Ugly Kid Joe sang together for Cat's in the Cradle.
Disappear and Bring Me to Life have been televised and are available to watch online.
Setlist
01. Everybody's Fool
02. What You Want
03. Going Under
04. The Other Side
05. Lithium
06. My Heart Is Broken
07. Made of Stone
08. Haunted
09. Weight of the World
10. Say You Will
11. My Immortal
12. Your Star
13. Whisper
14. Call Me When You're Sober
15. Imaginary
16. Disappear
17. Bring Me to Life

Albums

EPs
Studio
Demo
Live
Compilation

Singles
Promotional singles
Evanescence stuff