Kink Music Festival
From The Evanescence Reference

Kink Music Festival is an annual rock music festival in Orlando, Florida that began in 2015.
Kink Music Festival 2016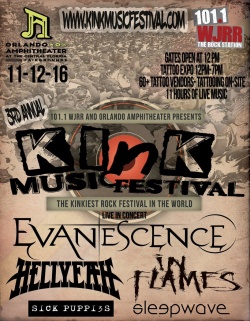 Evanescence headlined the festival on Saturday November 12, 2016.
Whilst they were performing Bring Me to Life, Paul McCoy joined the band on stage as a surprise to sing his original parts. This was the first time Paul had performed with Evanescence since 2003.
Also, as the band came in with the heavier part in My Immortal, drummer Will Hunt missed his cue as he was talking to sombody off stage.
Setlist
01. Everybody's Fool
02. What You Want
03. Going Under
04. The Other Side
05. Lithium
06. My Heart Is Broken
07. Made of Stone
08. Weight of the World
09. Take Cover
10. Disappear
11. My Immortal
12. Your Star
13. Whisper
14. Call Me When You're Sober
15. Imaginary
16. Bring Me to Life feat. Paul McCoy
17. Dirty Diana (Michael Jackson cover)

References
Albums

EPs
Studio
Demo
Live
Compilation

Singles
Promotional singles
Evanescence stuff