Sally's Song
From The Evanescence Reference
General information
Written by: Danny Elfman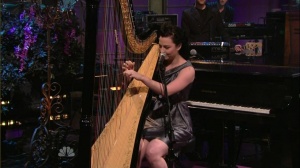 Sally's Song is a song featured in the Tim Burton film, The Nightmare before Christmas, and is originally sung in the film by Catherine O'Hara and covered once before by Fiona Apple in a 2006 reissue bonus disc of The Nightmare before Christmas soundtrack.
Amy Lee covered the song on the 2008 compilation album, Nightmare Revisited, featuring Korn, Plain White T's, Flyleaf, The All-American Rejects and more. The CD was released on September 30, 2008.[1]
Amy stated in EvClub that she will be performing Sally's Song song live on The Tonight Show with Jay Leno on October 13. It should be noted during the previews that Amy Lee used both her harp and the piano to remake this song. Her good friend, Will "Science" Hunt (not the Evanescence drummer) played the drums.
Amy's description of the song, from EvClub:
Hey guys! I just wanted to say a few things about Sally's song.

I first saw the Nightmare Before Christmas when I was about 13 years old. I loved it so much- the art, the music, the story- that I have watched it at least 40 times since then. It has been an inspiration to me since my artistic identity was just beginning to form, and it never gets old- it still puts me in the mood to create. I was the girl in high school who was blasting TNBC soundtrack in my car instead of whatever was cool back then. In all honesty, Sally's Song has always been "my song" on that CD, and I used to play it over and over, making up harmonies to sing with it. I just want to gush out loud that I am SO lucky that I got to do this. Please believe me when I say they couldn't have gotten a bigger fan to do it. The coolest part about it was that I had complete creative control. It was just like, "go for it!" and I got to recreate the song however I wanted. So I went to my good friend Will Hunt's studio in Ft. Worth (not the evanescence drummer, weird coincidence but its a totally different guy), who is a very creative producer and drummer, and we just had fun with it. I decided to whip out my new budding skill and play harp on the track, which I LOVE and intend to use much more in the future. Even though my version is different than the original, I wanted to pay homage to Danny Elfman and to Sally in every way I could, from the creepy background vocals to the droning harmonium (which reminds me of the accordian in the song). I can't wait for it to come out, I love it so much! Thanks Will! I'm not sure if you guys know this yet, but I'm going to play it on the Tonight Show on October 13. Tim will be up there with me. I hope you enjoy the song, I cant wait to hear what you think!
love,

Amy

The song leaked to the internet on September 27, 2008.
Amy's description of the song, from Spin:
| | | |
| --- | --- | --- |
| | The Nightmare Before Christmas is my number one biggest influence artistically in every way. [When I was young] I literally would sit in my bedroom and sing "Sally's Song," or in the car driving to school. The best part about it [recording the song] was that I had no restrictions or direction or anything. I picked the producer, who's a friend, and we just made the song however we wanted together. [We recorded the song] three months ago, in Fort Worth, TX.[2] | |

On October 17, 2008, for the premiere of The Nightmare Before Christmas in 3D, Amy Lee was called to perform her cover during the introduction to the film. Danny Elfman, the writer of the film's soundtrack, was present too; he gave compliments to Amy saying she had interpreted the song perfectly.
Versions
Studio versions:
Sally's Song
Recording date: June–August 2008
Status: Released
Released on: Nightmare Revisited
Length: 3:03

Live versions:
Sally's Song [Live]
Performing dates: October 13, 2008; October 17, 2008
Status: Unreleased
Example: The Tonight Show with Jay Leno (October 13); El Capitan Theatre, Los Angeles (October 17)
Lyrics
I sense there's something in the wind
That feels like tragedy's at hand
And though I'd like to stand by him
Can't shake this feeling that I have
The worst is just around the bend


And does he notice my feelings for him?
And will he see how much he means to me?
I think it's not to be


What will become of my dear friend?
Where will his actions lead us then?
Although I'd like to join the crowd
In their enthusiastic cloud
Try as I may, it doesn't last


And will we ever end up together?
Ooh...


And will we ever end up together?
No, I think not, it's never to become
For I am not the one
References
Albums

Solo
Compilation appearances
With Evanescence

Singles
Associated acts
Related people
Related organizations
Related