The Bitter Truth
The Bitter Truth
Studio album by Evanescence
Released
TBC
Recorded
January - February 2020; Rock Falcon Studio, Nashville, TN
Length
TBC
Label
Evanescence under exclusive license to BMG Rights Management (US) LLC
Producer
Nick Raskulinecz
Evanescence chronology

The Bitter Truth is Evanescence's fifth studio album that is currently in the recording process, with the band scheduling to hit the studio multiple times in 2020.[1]
Amy confirmed that the new music will go back to its rock roots and that they've got some ideas in the bank, including previous songs that didn't make it to the self-titled record and Synthesis.[2][3] There is currently no confirmed release date, but there is intention to release the new music in 2020.[4]
She also explained that the new music is "dark and heavy" and has "The Open Door vibes" in terms of it having "weird and sparse" moments.[5]
Conception
After releasing 2017's Synthesis, Amy said the next album would go raw and focus on the band.[6] Later, she confirmed that the new songs are in a "place that's even more raw", adding they are "all different" from each other.[7]
In a interview with Rock Sound in May 2020, Amy discussed the album's sound:[8]
| | | |
| --- | --- | --- |
| | One of the things that we've been kind of aiming towards is taking the elements of what maybe are things that make up our sound and try to separate them and give each of them their own space. So some of the songs don't have strings and are fully rocking and heavy. And then some of the songs might be really in the electronic zone, and something might be more on the orchestral side. But overall, it's gonna be a rock record. | |

Amy said the songs from the album will be released one at a time as the album is still being written and recorded.[9][10] "I want to live more in the moment with our music. To let each song have its own moment to be felt simultaneously by us and our fans. To connect us more", she told Rolling Stone India.[11]
In June 2020, she indicated the new songs have a "90s, grungy alternative" sound:
| | | |
| --- | --- | --- |
| | The songs are all different. I want this album to show all of our sides, really, but most importantly I want to create without thinking too much about what I want it to be, and just let it be what it is. There's definitely a little bit of a 90s, grungy alternative thing emerging which is lovely, that's a return to roots for me in the most honest sense since that's the music that inspired me so much in my formative years.[12] | |

In late June, she said the album will be a journey and revealed that a song from the initial sessions for Evanescence was revamped for the new album:
| | | |
| --- | --- | --- |
| | It's going to be a journey. One of the songs we've recorded so far is from 10 years ago, from the first time we went in to record our third album. Completely reformed into a special new thing. Up to now, some of the songs are being written now, some aren't even written yet. And so much has happened this year, there's so much to say. So yes there are themes, but I think the biggest one is about time. Past, present, and future all at once. And part of that has to do with how the album is still a living, growing thing, as it is being slowly released. Like life.[13] | |
Recording Process & In the Studio
Amy has said that the band will record the album in sections during 2020 to work around their tour plans.[14] She said they might also bring in a different producer each time they hit the studio.[4]
The band recorded the first four songs with Nick Raskulinecz at his studio, Rock Falcon Studio, on January 20th and concluded on February 5th.[15] One of those will be released as a single. They aim at working with another producer on songs in the vein of The Open Door and "electronic, weird, mid-tempo world."[16] Amy said she wants to release songs over the course of 2020 and in the end the full album will be released.[16]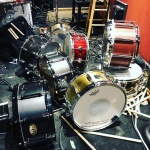 No orchestra was recorded for some of the songs from the album,[8] with Amy saying "that's not because we couldn't get together with one because of the [COVID-19] pandemic!"[7] Instead of strings, electronics (such as synthesizers, arpeggiators and sound effects) were used.[17]
Due to the coronavirus pandemic, the band worked remotely by sending ideas to each other. Amy said they came to a point where they have to get together to finish the album and were trying to figure out how to get it done.[13]
On August 10, producer Nick posted on Instagram that Will Hunt tracked 9 songs. On a snare it's written "Evanescence Bitter Pill Sessions".[18] The post was later taken down.
Album title and artwork
The album title and artwork, taken by Josh Hartzler,[19] were revealed on April 17, 2020 on the band's social media.[9]
In a interview in May 2020, Amy explained the album title:
| | | |
| --- | --- | --- |
| | There's a big theme of disillusionment for me. Just growing up and seeing that fairy tales aren't really real. And it's hard to be a grownup — it really is. Because somebody else isn't in charge, we really have to be able to make our own decisions, find out our own information, protect ourselves. People die — we're all going to. There's no magic castle. So that sounds like a lot of doom and gloom when I say it, but there's a choice to accept that truth and live in it and embrace it and choose to live and choose to live in a moment, and the choice to just give up. And there's a struggle there, but my choice is most definitely to take that pill.[8] | |
Promotion
Singles
Wasted on You was the first single that was released digitally on April 24th. The official music video premiered on YouTube later that same day. It wasn't originally planned to be the first song, but after the COVID-19 pandemic, the band decided to release it first saying "the feeling and meaning [changed] of what we wanted to say right now."[10]
The second single, The Game is Over, was released on July 1, 2020.[20] Amy Lee said that the song is "a promise to [herself] and out loud that [she's] going to be more of [her] real, inner self on the outside — not lock her up because she can't be contained anymore. It's also a prayer to become better, to not feel so messed up, locked up, and hurt inside."[20]
The third single, Use My Voice, will be released on August 14, 2020. For this, the band teamed up with HeadCount which is a non-profit, non-partisan organization, to help make it easy to register to vote for U.S. citizens. If you visit www.usemyvoice.org between now and September 30, 2020 to get yourself vote-ready (for U.S. citizens only), you will get access to a free, private online performance from Evanescence in October. For fans outside the U.S. they can pledge to vote here and they will also get sent the link for the performance nearer the time.
Music Videos
Wasted on You is the first music video from the album and was shot by the band themselves on their iPhones.[10] A second official video was put together with fan clips sent on TikTok,[21] which was released on June 24.[22]
The Game is Over is the second music video, which premiered on April 3. It was also shot by the band and edited by P.R. Brown.[20]
Tour
Track List
Album Credits
Album Reception
Chart Performance
References
Albums

EPs
Studio
Demo
Live
Compilation

Singles
Promotional singles
Evanescence stuff